In what might go down as the most devious act of Katy Perry and Taylor Swift's years-long feud (over backup dancers of all things), the artist commonly referred to as a snake emoji decided to make her entire catalog available on streaming services like Spotify almost three years after having them removed. The addition went down at midnight Friday morning—which happens to be when Katy Perry's anticipated fourth album Witness was released. (To add insult to injury, Swift also discounted all her music on Apple Music.)
Ana Gasteyer Satirizes the Girl Boss in 'American Auto'
While even the most casual follower of celebrity gossip would interpret this as an act of aggression meant to steal some of Perry's attention (and, more importantly, streams), Swift has framed the sudden change as a gift to her fans for "in celebration of 1989 selling over 10 Million Albums Worldwide and the RIAA's 100 Million Song Certification announcement."
Here's the announcement as shared by her management team:
G/O Media may get a commission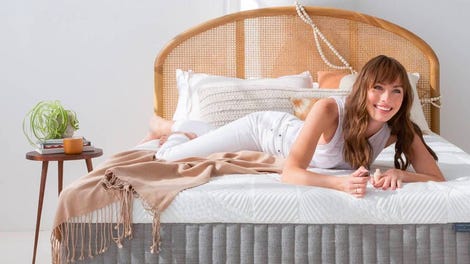 Sleep Sale
Sleep Sale - Brentwood Home
What's particularly funny about this development is that the Swift camp offered up a similarly fan-centric explanation when removing her music from streaming services back in 2014. Only the framing they used then (giving away music for free embarrasses superfans) was significantly less believable than the one they used this week (giving away music for free rewards superfans). Just read this quote from Scott Borchetta, the president of her long-time label Big Machine, and tell me if you think he was able to deliver it with a straight face:
"We never wanted to embarrass a fan. If this fan went and purchased the record, CD, iTunes, wherever, and then their friends go, 'Why did you pay for it? It's free on Spotify,' we're being completely disrespectful to that superfan."
And don't even get me started on the op-ed Swift wrote about the "future of the music industry" for the Wall Street Journal that summer. It began with her bemoaning the state of the music industry, writing, "Piracy, file sharing and streaming have shrunk the numbers of paid album sales drastically, and every artist has handled this blow differently." It ended with this:
I predict that some things will never change. There will always be an increasing fixation on the private lives of musicians, especially the younger ones. Artists who were at their commercial peak in the '70s, '80s and '90s tell me, "It was never this crazy for us back then!" And I suspect I'll be saying that same thing to younger artists someday (God help them). There continues to be a bad girl vs. good girl/clean-cut vs. sexy debate, and for as long as those labels exist, I just hope there will be contenders on both sides. Everyone needs someone to relate to.

And as for me? I'll just be sitting back and growing old, watching all of this happen or not happen, all the while trying to maintain a life rooted in this same optimism.
She may be "sitting back" and "watching all of this happen" today, but what she's watching while curled up tightly on her chair is a pettiness opera of her own making.
---
Speaking of Katy Perry, here's a full quote from her NME interview teased yesterday:
"I mean, I'm not Buddha—things irritate me. I wish that I could turn the other cheek every single time, but I'm also not a pushover, you know? Especially when someone tries to assassinate my character with little girls [her fans]. That's so messed up!"
[NME]
---
Below is a quote from Ewan McGregor in Esquire, and also me in real life:
Just take me back, take me back, I want to be in the Nineties again. Because it was a great time to be... well, me! It was! Fucking amazing.
[Esquire]
---