During a segment of her Big Brother-like "Witness World Wide" livestream Sunday, Katy Perry was joined by cab driver James Corden for a game of "Spill Your Guts or Fill Your Guts," which is sort of like WWHL's "Plead the Fifth," only you have to eat something disgusting like a pickled pig's foot or cow tongue (I don't believe any of those things were real, btw) if you choose not to answer a question.
When given the choice between ranking ex-boyfriends John Mayer, Orlando Bloom, and Diplo from worst to best or eating a 1,000-year-old egg, Perry reluctantly opted for the ranking.
"They're all amazing lovers, and I want to have sex with all of them after I get out of this place," she screamed to Corden (in reference to her self-imposed isolation), who then gave her a jumpstart by accurately assuming Diplo was the "worst of the bunch."

The rounded out the top two thusly:
CORDEN: Then Mayer, then Bloom?
PERRY: [Shakes head]

CORDEN: Bloom, then Mayer?!

PERRY: [Nods]

CORDEN: [Screams]
In addition to this sort of hilarious (if not entirely unsurprising) reveal, Perry also revealed the man behind one of the many perfect songs on Teenage Dream, "The One That Got Away," as being none other than JOSH GROBAN.
G/O Media may get a commission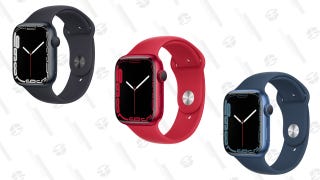 Up To $45 Off
Apple Watch Series 7
While she presented this factoid with an accompanying **mind blown** gesture with her hand, Corden didn't seem too phased by it. I, however, am actually speechless, and am going to listen to the song again right now. You know what? Maybe I'll listen to the entire album.
Video of the segment is below:
[YouTube]
---
Kevin Spacey, a man who has never come out as not straight despite decades of rumors that he's as gay as his character in Midnight In the Garden of Good and Evil (but not as murderous), hosted the Tonys Sunday night, and began the show with a wink at his sexuality.
Writes The Daily Beast:
...as a part of a bit in which Spacey is getting advice from previous award show hosts, Billy Crystal advises him, "If all else fails, put on a dress." He then dresses as Norma Desmond, Glenn Close's character in the current Sunset Boulevard revival, and dramatically belts, "I"m coming out," before stopping, "No, wait, no…"
If you're not going to fully come out at the Tonys of all places, I guess it's never gonna happen. So this seems like the best we're gonna get!
---