Hollywood has just learned a new word: diversity! The movie business has always been massively white, but only recently, in the wake of the #OscarsSoWhite campaign, has the Academy perked up and outlined plans for widespread changes designed to equalize its membership and voting process.
While fewer people caring about this ultimately meaningless, predominantly white prestige award would also be a great solution, the larger reality is that people of color in the film industry who live it everyday feel like things could be better, which seems like a concern worth considering.
So far, it's been entertaining to hear what Hollywood thinks of its raging whiteness. Leading up to this year's Oscars, anyone who does anything in film is being asked for their opinions on the diversity dilemma, with many of their takes ranging from Hm to Hmmmm to even Hmmmmmmmmm. It's proof that perhaps we don't need everyone's opinion on everything.
Here's a compilation of those takes, ranked by how much they really make you think.
---
21. Bill Maher Blames Asians
On Real Time With Bill Maher, the host went the jokey route but didn't quite land. "The dirty little secret is most movies are made now with an eye to the foreign market, and Asians really are racist," said Maher. "I'm just honest. They don't want to see black people generally in their movies." OK.
G/O Media may get a commission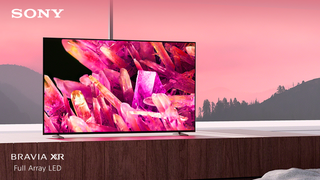 $400 off
Sony 55 Inch 4K Ultra HD TV X90K Series
He added, "The Hollywood executives are, like, 'We're not racist, we just have to pretend to be racists because we're capitalists. We want to sell our movies in China (and) they don't like Kevin Hart.'"
How much it makes you think:
---
20. Mo'Nique Doesn't Watch This Shit Anyway
Taking the dismissive approach to the topic at hand, Mo'Nique disregarded the importance of the Oscars in general: "The Oscars are not something I watch anyway," she said.
Mo'Nique also made the oft-heard point that black people seem to be groveling for a seat at the table.
"Do we stand up over a gold plated trophy? Or do we stand up and say we need equal wages and equal treatment?" she says. "The Oscars have not been any different for what…89 years? But why do we keep wanting to get thrown a bone? Why do we want to keep saying 'Can we please come to your party?'"
How much it makes you think:
---
19. Snoop Dogg Opts For Brevity
Although it doesn't make you think that much, Snoop Dogg wins this entire argument for this Instagram video and caption: "Fuck da. Oscars."
How much it makes you think:
---
18. George Clooney Thinks Things Were Better Back in the Day
Clooney noted the history of the Oscars while broaching this topic in a statement he gave to Variety. He made a salient point that minorities need to be given more opportunities in films overall.
But he also said, "If you think back 10 years ago, the Academy was doing a better job. Think about how many more African Americans were nominated," he said. "We need to get better at this. We used to be better at it." Not sure about that.
How much it makes you think:
---
17. Will Smith Boycotts Because Jada Pinkett Smith Is Boycotting (He'd Otherwise Probably Go?)
Jada Pinkett Smith was perhaps responsible for kicking off the Oscars boycott convo, with her stunningly woke Facebook video stating that maybe the true power lies in not giving power to the Oscars. She also said she wouldn't be watching or attending the awards.
"Begging for acknowledgment, or even asking, diminishes dignity and diminishes power," she said. Will Smith then said he had no idea this was happening but, uh, guess he has to go along with it.
How much it makes you think:
---
16. Ice Cube: You Can't Boycott What You've Never Been to
In perhaps the most existential approach to the Oscars diversity talk, Ice Cube asks: How can a thing exist if I'm not there?

"You can't boycott something you never went to anyway," he told Graham Norton—so why put energy into it? "We don't do movies for the industry. We do movies for the fans, for the people. If the industry give you a trophy or not, or pat you on the back or not, it's nice, but it's not something you should dwell on."
Cube added, "It's like crying about not having enough icing on your cake. It's just ridiculous."

How much it makes you think:
---
15. Various Actors and Directors Offer Reasonable Requests for Diversity
In one corner of the debate room are the actors and filmmakers who simply want more opportunities for people of color. Many of them think it's cool that the Oscars have jumpstarted this conversation, but they realize there are bigger concerns. They've managed to find articulate or sensible ways to express as much in interviews. It's almost as if they really care or had been giving it some thought for a while.
This group includes Viola Davis calling the Oscars' whiteness a "symptom of a much greater disease" (John Legend and had similar thoughts). Reese Witherspoon and Jonathan Demme focused on the voting, while John Krasinski advocated for diversity in the filmmaking process. Ellen Page said the key is diversity behind the scenes and added, "I think the issue is much more systemic and I hope that's what changes—hearing more diverse stories." Ian McKellen said gay actors are "disregarded" altogether.
Marlon Wayans broke it down in terms of budgets and general production limitations, as did Steve McQueen. Director Alejandro Iñárritu reminded us that it's important to create opportunities for a range of minorities, including Latino and Asian Americans. And then there are those like Michael Ian Black who simply acknowledge that the current climate is "ridiculous."
How much it makes you think:
---
14. Don Cheadle's DING DING Actual Good Take
Don Cheadle focused on a variety of issues, from the filmmaking process to the importance of the viewer versus the old Academy voters.
"There are things that are happening way earlier than [the Oscars] when it comes to someone deciding whether they're going to spend x amount of millions of dollars on a movie," said Cheadle, adding, "I want $100 million success. The moviegoer is the person I'm more interested in than the Academy."
He also said of the voting process: "Those peers that are actually recognizing you, did they even look at your movie?"
How much it makes you think:
---
13. Clint Eastwood Thinks Everyone Should Stop Whining
Not a whole lot of people win Oscars to begin with. This is a fact that's pretty much understood. But Clint Eastwood had to say it.
"All I know is there's thousands of people in the Academy and a lot of them, the majority of them, haven't won Oscars," he told TMZ. "A lot of people are crying, I guess."
How much it makes you think:
---
12. Steve Harvey Says We Don't Even Know Who's in the Academy
Steve Harvey—who's always right—wondered about the makeup of the Academy's voters during a Q&A for the National Association of Television Program Executives. He also sided with Jada Pinkett Smith's proposed boycott, but disagreed with those calling on Chris Rock to step down as host.
To drive home his point, Harvey used mathematics and science: "You take Chris off, ain't no blacks. Nowhere," Harvey told Access Hollywood. "You can't go forward and backwards at the same time."
How much it makes you think:
---
11. Nick Cannon Uses Spoken Word to Make His Point
One shan't fault Cannon for his particular take, but more for his delivery.
In a video, Cannon rap-speaks, "It's blasphemous, don't get distracted by these lottery tickets and statues/ It's just fake gold and plastic/ We crying for votes but how many of us is on the board/ Better yet, when's the last time you showed up and supported the NAACP Awards?"
How much it makes you think:
---
10. Matt Damon Calls the All-White Oscar Nominations 'Shameful and Embarrassing'
In response to a question about the Oscars' diversity at this year's Sundance Festival, recently-awoken Matt Damon's internal robot brain took over and said, "It was shameful and embarrassing that there were two years in a row without a single actor of color nominated. That's insane."
How much it makes you think:
---
9. Danny DeVito Says The Entirety of America Is Racist, So...
America's racist, so what do you expect, says Danny DeVito.
"It's unfortunate that the entire country is a racist country," he said at Sundance. "We're living in a country that discriminates, and has certain racist tendencies."
How much it makes you think:
---
8. Spike Lee Boycotts In Headline Font
In an Instagram post formatted in frustrating Headline style, Spike Lee supported an Oscars boycott, writing:
For Too Many Years When The Oscars Nominations Are Revealed, My Office Phone Rings Off The Hook With The Media Asking Me My Opinion About The Lack Of African-Americans And This Year Was No Different. For Once, (Maybe) I Would Like The Media To Ask All The White Nominees And Studio Heads How They Feel About Another All White Ballot.
He added:
As I See It, The Academy Awards Is Not Where The "Real" Battle Is. It's In The Executive Office Of The Hollywood Studios And TV And Cable Networks. This Is Where The Gate Keepers Decide What Gets Made And What Gets Jettisoned To "Turnaround" Or Scrap Heap. This Is What's Important.
How much it makes you think:
---
7. William H. Macy Says a String of Words
You know when you just say something to say it? Like, whatever you're saying means nothing? You're just trying to get the words out? You kinda just agree with everything... whatever that person said?
Here are a series of words from William H. Macy:
"Good for them. Good for them," he told Us Weekly. "Talk about putting your money where your mouth is. It's not right. Someone's gotta say it. They said it. I applaud them."
Glad someone said that they're glad that someone is saying it.
How much it makes you think:
---
6. Whoopi Makes a Sage Point: She Won an Oscar So 'It Can't Be Racist'
While discussing the Oscars topic on The View, Whoopi Goldberg made a rare good point about the value of black movies at the box office, stating, "The people who can be helping to make movies that have blacks and Latinos and women and all that—that movie doesn't come to you. Because the idea is that there's no place for black movies."
Unfortunately, logic eventually failed her.
Referring to her Oscar win for Best Supporting Actress in 1991 for Ghost, Whoopi said, "I won once. So it can't be that racist."
How much it makes you think:
---
5. Stacey Dash Calls the Oscars Boycott 'Ludicrous'
Stacey Dash wonders: What's the point of Black Entertainment Television?
"If we don't want segregation, then we need to get rid of channels like BET, and the BET Awards and the Image Awards, where you're only awarded if you're black," Dash told (who else) Fox & Friends, calling it a "double standard."
She also said, "What I find astounding is that we've had a president who is black in office for the past eight years, who gets most of his funding from the liberal elite in Hollywood. Yet, there are not very many roles for people of color. How can that be? And why is it just now being addressed?"
The above translates to: "Well, BET?" And: "Obama. How do you explain him?"
How much it makes you think:
---
4. Tyrese Says You Gotta to Be Gay to Get Anything Done
Tyrese called on Chris Rock to quit as host of this year's Oscars broadcast and also made an ill-advised comparison to the gay struggle.
"Is Chris Rock still gonna host the Oscars after this blatant racism?? Is everyone still gonna show up??" Tyrese wrote on Facebook.
"In this town, I guess it takes homosexuals to be discriminated against in order for someone to finally step UP and wanna do something," he continued. "You have to take your hat off to the homosexual and gay community cause right now they're as strong as black people USE to be when it comes to their rights."
How much it makes you think:
---
3. Michael Caine Tells Blacks to Be Patient
Perhaps the problem is that you don't know how to wait? Come back to me after you've considered the virtue of patience.
"There are loads of black actors," said Caine. "You can't say: I'm going to vote for him, he's not very good but he's black, [so] I'll vote for him. You've got to give a good performance."
"Be patient," he added. "Of course it will come. It took me years to get an Oscar."
How much it makes you think:
---
2. Charlotte Rampling Says Oscar Backlash Is 'Racist to Whites'
A go-to argument for critics of Oscar criticism is that maybe the non-white actor's roles weren't Oscar-worthy enough. Ever thought about that, hmmmmmmmm? (Counterpoint: Was Jennifer Lawrence's performance in Joy worth yet another nomination?).
"We can never know... But maybe it's because no black actors merited being nominated," said Rampling. "Why put people into categories?"
She later said her comments were "misinterpreted."
How much it makes you think:
---
1. Julie Delpy Wishes She Was Black
O, to be black! Playing the struggle Olympics, the French American actress told The Wrap that black people are much less criticized in the media than women. Ever thought about that? "Two years ago, I said something about the Academy being very white male, which is the reality, and I was slashed to pieces by the media," said Delpy.
Cool, cool. Go on...
"I sometimes wish I were African American because people don't bash them afterward. It's the hardest to be a woman," she sighed. "Feminists is something people hate above all. Nothing worse than being a woman in this business. I really believe that."
Delpy later backtracked.

How much it makes you think:
Congrats to everyone for making us think. The Oscars do not air for another 33 days.
---
Contact the author at clover.hope@jezebel.com.

Images via Getty, GIF by Bobby Finger.