George Clooney has jumped into the conversation surrounding the embarrassing lack of diversity in this year's Oscar pool specifically as well as in Hollywood in general.
The actor gave an exclusive statement to Variety, responding in part to Academy President Cheryl Boone Isaacs' statement about the snowstorm, as well as Spike Lee and Jada Pinkett and Will Smith's decision to boycott the ceremony.
If you think back 10 years ago, the Academy was doing a better job. Think about how many more African Americans were nominated. I would also make the argument, I don't think it's a problem of who you're picking as much as it is: How many options are available to minorities in film, particularly in quality films?
He goes on to bemoan the lack of good lead roles for women—an important issue that here feels like a slight derailment. Clooney also name-checks the list of films and actors that he felt deserved nominations this year.
But honestly, there should be more opportunity than that. There should be 20 or 30 or 40 films of the quality that people would consider for the Oscars. By the way, we're talking about African Americans. For Hispanics, it's even worse. We need to get better at this. We used to be better at it.
G/O Media may get a commission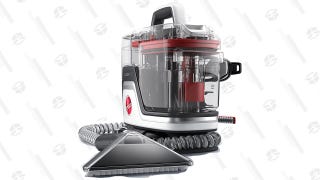 Save $10
Hoover CleanSlate Plus Carpet & Upholstery Cleaner
Great points, George! I agree with all of them—although that, "I don't think it's a problem of who you're picking" bit is a tad odd. But let's talk about something.
George is right that most minorities (who, by the way, as I often feel the need to mention, are not actually the minority when it comes to, you know, Earth) are not given the opportunities for good, interesting roles. What he doesn't mention here, but is certainly relevant, is the fact that he is a prolific filmmaker with his own production company.
In other words, George Clooney makes up a powerful part of the "we" that he says needs to get better. Considering that he feels so strongly about Hollywood's diversity issue that he'd issue a statement to one of it's largest trade magazines, one would assume that George practices what he preaches with his actual work, right?
Let's take a look at Clooney's last ten films and how many people of color appeared in starring roles. He made a brief cameo in A Very Murray Christmas, which included Rashida Jones and Maya Rudolph in substantial roles. He produced the Sandra Bullock flop, Our Brand Is Crisis, which Jezebel's Julianne Escobedo Shepherd noted was essentially a movie about a white woman swooping in and "saving" Bolivia. 2015's Tomorrowland included Keegan-Michael Key.
After that, the slate descends into blinding whiteness with films like The Monuments Men, Gravity and August: Osage County.
Clooney also starred in The Descendants, which had a bunch of white people pretending to be part Hawaiian, and Argo, which featured Ben Affleck playing a half-Mexican man. You have to go back back to 2011's The Ides of March or all the way back to 2007's Oceans Thirteen to find a person of color playing anything resembling a lead role—and even then, that's a bit of a stretch.
The part of the "we" that is "I, George Clooney," is also not doing great!
The point being, George Clooney doesn't seem to display much interest in actually solving Hollywood's diversity problem, even though he claims to care and is in an excellent position to do so. At least for me, his words ring hollow.
But I am glad he said something, just like I'm glad that Stephen Colbert had DeRay Mckesson on his show. However, that doesn't change Clooney's track record or the fact that Colbert's writing staff is completely white and mostly male.
Perhaps, moving forward, George Clooney will be more aware of diverse casting—both behind the camera and in front. That'd be good. He has a lot to make up for.
---
Contact the author at kara.brown@jezebel.com .
Image via AP.