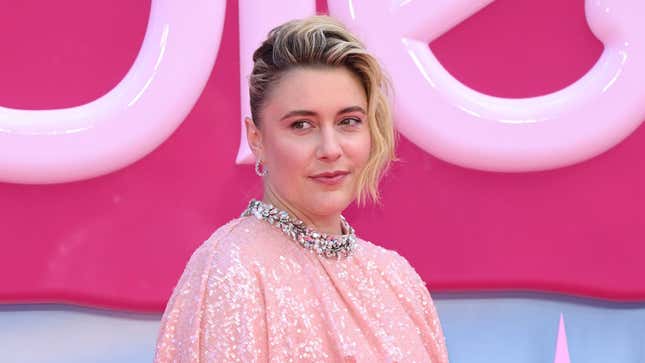 In spite—or perhaps in part because—of rage watchers like Matt Gaetz and the Wall Street Journal's film critic, quasi-feminist doll movie Barbie broke box office records this weekend. (Please acknowledge that I have resisted a glass ceiling pun here; you're welcome).
Greta Gerwig's feature film based on the Mattel toy opened to $162 million at the North American box office over the weekend, according to The Hollywood Reporter, breaking the opening weekend record for a woman director. Barbies across America really did take up the invitation to go party: If you left your house at all this weekend, you were surely met with a parade of pink crusaders, and exit surveys indicate that women and girls made up almost 70 percent of Barbie's audiences nationwide.

The Margot Robbie-led film easily passed the last record breaker for a woman's solo directorial effort: Patty Jenkins' 2017 Wonder Woman earned a $103.3 million domestic opening. Barbie also lapped the 2019 debut of Captain Marvel, which raked in $153 million over its opening weekend and was co-directed by Anna Boden and Ryan Fleck—the highest opening for any film co-directed by a woman. Barbie nearly doubled the earnings of Christopher Nolan's Oppenheimer ($82.4 million), which also premiered Friday. Together, the two movies marking one of the biggest openings since the pandemic began. The magic of Greta Gerwig (and the doll that brought to life millions of stories on playgrounds and living room rugs over the last 60+ years) is in full effect.
But of course, when it comes to matching the earnings of male solo directors or co-directors, Hollywood's got a long way to go. The highest grossing opening weekend on record has been claimed by two white men, Anthony Russo and Joe Russo, who co-directed Avengers: Endgame, which earned a mind-boggling $357.1 million on its opening weekend in 2019, according to Box Office Mojo.
But studios' trust in Gerwig is promising, if not long overdue: Barbie is just Gerwig's third feature film, following her 2017 directorial debut with Oscar-nominated indie darling Lady Bird, and the 2019 Sony adaptation of Little Women, which also earned Gerwig an Oscar nomination for best adapted screenplay.

A hearty congrats to Gerwig for the well-deserved accolade, which happened early enough in her career—with only her third feature film!—that I expect we'll be seeing similarly gangbusters ticket sales from her in the future. And Hollywood, call me when you start handing over more of your guaranteed-box-office cash cows to women and directors of color.