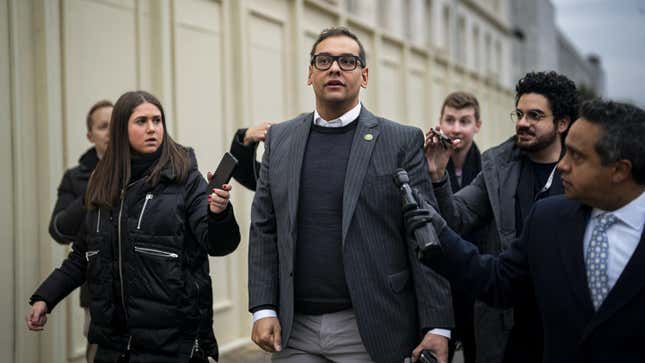 Caught in a growing web of lies about his own life, the embattled Rep. George Santos (R-N.Y.) told his colleagues during a closed-door meeting Tuesday morning that he will "temporarily" recuse himself from his House committee assignments until his issues are resolved, because he's "a distraction," according to multiple new reports. (Yes, Republicans had seated this guy on not one but two committees—the Science, Space & Technology and Small Business committees.)

The Filibuster is Standing in the Way of Abortion Access
"The congressman is reserving his seats on his assigned committees until he has been properly cleared of both campaign and personal financial investigations," Naysa Woomer, a spokesperson for Santos, told Jezebel.
This may all be because House Republicans are trying to kick Rep. Ilhan Omar (D-Minn.) off the Foreign Affairs Committee, which would require a full House vote, and having Santos serving on committees in the meantime makes the party look pretty hypocritical. Santos, too, told Axios he intends to vote to remove Omar: "She doesn't deserve a seat in that committee," he said.
Santos has been defiant when confronted with his many lies—about his education, employment history, religion, charity work, and even about possibly being a drag queen. He said everyone inflates their resumes and that he would not resign, though he conceded that he wouldn't run for re-election in 2024.
It's much harder to wave away reporting about shady campaign donations, loans, and connections to a Russian oligarch, however. And now that it appears the Department of Justice is investigating Santos' financials, Republicans and Santos seem to be showing a crack in their armor, which is usually fortified by utter shamelessness.
Also on Tuesday, Siena College released a poll showing a whopping 78 percent of voters in his district, NY-3, think he should resign from Congress—and 71 percent of Republicans and 72 percent of independents. The poll also found that almost three-quarters of respondents think he can't be an effective representative for the district and that House Speaker Kevin McCarthy (R-Calif.) shouldn't have seated him on two committees. And, by a two-to-one margin, people who said they voted for Santos in November said they wouldn't have done so if they knew what they know now.

The sad fact is that Republicans' slim, four-seat margin in the House meant McCarthy was going to tolerate a whole lot of bullshit from Santos in order to maintain their grip on power. McCarthy needed Santos personally, as he pledged to vote for him in the shitshow of a Speaker's race that took 15 rounds of voting.
Is the dam might finally breaking? Probably not, to be honest.