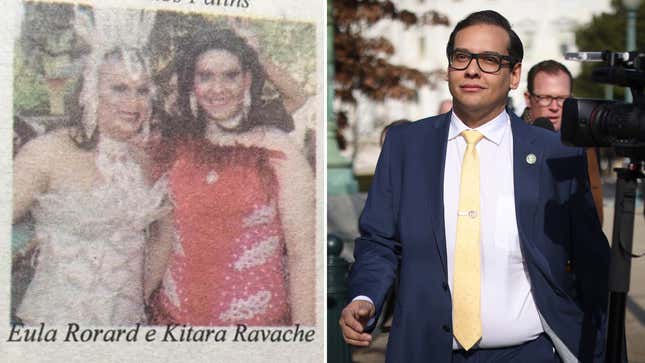 At some point, it will be more newsworthy if Rep. George Santos ever manages to say anything true about himself. But for now, the bonkers stories keep coming.
Don't Feel Bad if You Can't Achieve the 'Clean Girl Aesthetic'
Per a Wednesday report in Reuters, the embattled, pathologically lying Republican Congressman from New York used to compete as a drag queen named "Kitara Ravache" in Brazil about 15 years ago. The report came at the same time as another report accusing Santos of having fundraised for a veteran's terminally ill dog in 2016, only to seize the money for himself. And now Santos has denied both stories in a series of embarrassing tweets on Thursday morning.
One drag performer who uses the drag name Eula Rochard told Reuters she first met Santos nearly two decades ago when he was cross-dressing at an LGBTQ Pride parade in Rio de Janeiro. Within a few years, Rochard says that Santos competed in a local drag pageant. This is corroborated by another unnamed individual who recounted Santos competing in drag pageants and even aspired to be Miss Gay Rio de Janeiro.
As for the dead-dog-grifting allegations, Santos met Rich Osthoff, a US Navy veteran, and his dying dog in 2016. Per CNN: "Osthoff told CNN his pit bull Sapphire began developing a tumor in 2015, and it continued to grow in 2016. Osthoff said he was homeless, living in a tent, at the time after losing his job and house."
Santos, known at the time by the name Anthony Devolde, stepped in at the time offering to help, text messages shared by Osthoff to CNN show. Santos wound up raising roughly $3,000 for the dog—enough for a procedure to help his dying dog live—but promptly turned on Osthoff and refused to give him the money.
"The reports that I would let a dog die is shocking & insane. My work in animal advocacy was the labor of love & hard work. Over the past 24hr I have received pictures of dogs I helped reduce throughout the years along with supportive messages," Santos wrote in a Thursday tweet. It's very unclear what he means by "dogs I helped reduce"—not exactly a reassuring line from a man accused of stealing thousands from a dying dog.
And then, of course, there are the drag reports Santos was also forced to address early Thursday. Eula Rochard told Reuters on Wednesday that Santos was originally a "poor" drag queen in 2005, but when he returned and began competing a few years later, he had "a lot of money" and new, more colorful clothing—namely a bright pink dress—to show for it. "He's changed a lot, but he was always a liar. He was always such a dreamer," Rochard told the outlet.
Speaking to journalist Marisa Kabas on Wednesday for her newsletter, Rochard said she met Santos when he was about 16 and oft hung around her house. She didn't mince words about his lacking drag abilities: "He did not have what it takes to be a professional. George did not have the glamor for that," Rochard told Kabas.
She didn't seem particularly shocked about the many lies the Congressman has been caught in since he was elected in November. "George always lied about everything," Rochard recalled. "He used to create stories, usually involving money—like that his dad was rich." This raised questions, she said, because "people wondered why his mom was a cleaning lady. There's nothing wrong with being a cleaning lady, but if his dad was rich, then why?"
"He was a dreamer," she concluded, "and the way he figured out how to be famous was by becoming a politician. Republicans deserve someone like him."
As of early Thursday, Santos has denied the stories about his history of performing drag. "The most recent obsession from the media claiming that I am a drag Queen or "performed" as a drag Queen is categorically false," Santos wrote in a tweet, inexplicably capitalizing 'Queen' throughout. "The media continues to make outrageous claims about my life while I am working to deliver results."
Santos is the first openly gay Republican to win his House seat while not an incumbent, yet nonetheless, he's proudly embraced a caucus that's currently enacting terror on trans youth and adults, and all but setting up drag shows across the country to be attacked with their violent, anti-trans rhetoric. Santos has previously served as a surrogate for Donald Trump, campaigning among LGBTQ voters for the former president who quite literally tried to write trans people out of existence. Top Republicans in Congress and across the country devoted much of the last year to portraying queer people and drag performers as "groomers" and "pedophiles."
It can't be emphasized enough that Santos' alleged history of drag performance isn't the problem; in fact, it might be the only cool thing about the pathological liar. What's wrong is the hypocrisy—of performing drag and then, solely in pursuit of power, aligning yourself with a political party that's threatening drag performers' lives.
Santos, you may recall, was appointed to the House committees on Small Business and Science, Space & Technology this week after having been exposed for lying that his mom died in the 9/11 attacks, that his grandparents fled Nazi Germany, and that he's Jewish, lost several of his former employees in the 2016 anti-LGBTQ Pulse Nightclub shooting, worked at Goldman Sachs, and was once a star volleyball player on college scholarship at a school he didn't even attend. (Did I miss anything??)
And then, of course, there are all the stories from his past that he conveniently excluded—his previous, undisclosed marriage to a woman and allegations from ex-roommates that he stole from them and suffered from delusions of grandeur. A viral clip of Santos at Jan. 6 Stop the Steal rallies shows him wearing a scarf that his ex-roommate claims Santos stole from him.
In any case, contrary to Santos' stark denials about his history, I'll let the photos—and Santos' well-documented history of lying—speak for themselves.