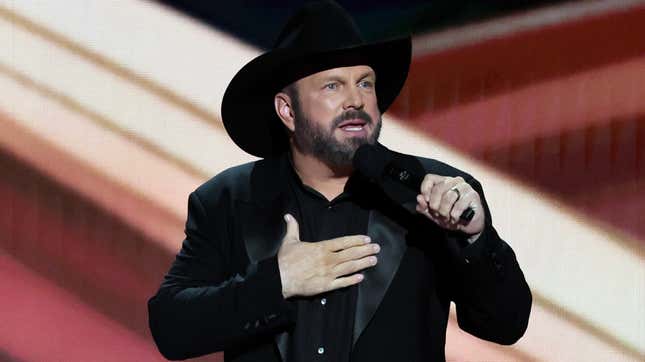 Garth Brooks—the king of country music—does not give a shit about the transphobic boycotts of Bud Light after the brand sent custom cans to influencer/actress Dylan Mulvaney, who rose to prominence for documenting her transition on TikTok. Brooks will be proudly serving Bud Light at his soon-to-be-open bar in Nashville, called Friends In Low Places Bar & Honky Tonk (I'm crying).
Taylor Swift's Rep Thinks You Need to Calm Down About Her Private Jet
"I want it to be a place you feel safe in. I want it to be a place where you feel like there are manners and people like one another," Brooks said in conversation with Billboard earlier this month. "And yes, we're going to serve every brand of beer. We just are."
The country music legend said there are other options if you can't bring yourself to even be inside an establishment that sells Bud Light, one of many light domestic beers. "Our thing is this: if you [are let] into this house, love one another. If you're an asshole, there are plenty of other places on lower Broadway," Brooks told Billboard.
What are those other establishments in Nashville you could visit that did pull Bud Light from the taps or maybe just the refrigerators? Well, John Rich's Redneck Riviera pulled the beer from its stock back in April after Kid Rock used a machine gun to destroy three cases of Bud Light next to a lake, for one.
Brooks has a long history of LGBTQ allyship, unlike some of his country radio counterparts. His sister, musician Betsy Smittle, was a lesbian. He won a GLAAD Media Award for his song "We Shall Be Free" in 1993, because the song featured the line "When we're free to love anyone we choose," which is country radio for WE LOVE THE GAYS. The video for the song won Video of the Year at the 1993 Academy of Country Music Awards, despite some country stations boycotting it. (Be warned: The video is very corny.)
All the conservatives annoyed or surprised that Brooks would stand up to tyranny (aka conservatives trying to get light beer pulled from bar menus everywhere) just haven't been paying attention for the last 30 years. Can't wait to drag my girlfriend to Friends In Low Places whenever it finally opens!