When it comes to magazine swimwear photoshoots, we're usually subjected to the same, rehashed concepts: A languid, passive model lying on a beach or propped on a river rock. Not in Paris Vogue.
The "Game Girl" layout in the May issue — shot by Inez Van Lamsweerde and Vinoodh Matadin, whose work we have gushed over before, features tableaux of Daria Werbowy "beating up" guys in the desert. It's a little Death Proof and Thelma & Louise and kinda silly, but also unexpected and visually arresting.
The caption reads, "Daria vs. Greg Bonnet, Plumber."
G/O Media may get a commission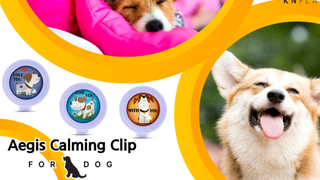 20% off
Aegis Calming Clip for Dogs
Here, Daria has her way with cinematographer/photographer Blair Madigan.
Seeing a female model be "aggressive" and physical with these men raises so many questions: Is she on a rampage? What made her snap? Did these guys do something to "deserve" an ass-kicking?
Obviously, because of Rihanna, issues of male/female violence are in the air right now. Certainly, were the tables turned, and a male model were striking out at random women, it would not be acceptable.
And yet… Isn't that the point? Aren't women usually the mistreated props? This guy is identified as a truck driver, a profession often stereotyped as being insensitive to women.
This is Dewitt Cannon, a champion skateboarder — a pro in something thought of as a boys' club.
Here, Daria is pictured with Josh "the Baby Faced Assassin" Barnett, a heavyweight MMA fighter. And while we can question whether this entire photo shoot is about male/female power struggles, clichés regarding what's really "tough" and turning violence or subjugation of women on its ear, the truth is, it's just an interesting idea for a swimwear layout, and one of the asses kicked is Lucky's.


Earlier: French Vogue: The Wind Beneath Our Wings
French Vogue: All Lara Stone, All The Time
French Vogue And Ambivalent Modern Motherhood
Cindy Crawford In French Vogue: 42, Half-Naked & Smoking Hot
Gender Bender: Agyness Deyn Mans Up For French Vogue
Kate Moss In French Vogue: Biker Chic(k)
Bon Joor, C'est Paris LOLVogue Encore!
What's The Message Behind A Black Man In Heels On The Cover Of Vogue?
French Vogue: Now With More Bearded Drag Queens
Olivier Theyskens Totally Naked in French Vogue: Hot or Not?
Mon Dieu! C'est French LOLVogue: Shoulders, Champagne and Cigarettes
French 'Vogue': Devil Worship Is The New Black!