French Vogue editor Carine Roitfeld styled model Lily Donaldson in a doozy of an editorial for the April issue. It's a cigarette-fueled, pregnancy-padded, bottle-fed primer in that which cannot be done in Vogue's American pendant.
Ah, yes. Smoking is one of Carine Roitfeld's Favorite Things; she once told the Guardian she wouldn't want Anna Wintour's job because in America, you can't put a smoking model on your cover. So it comes as little surprise that she'd find an excuse to show pregnancy clope à bec.
Is this an editorial about the tribulations, joys and ambiguities of contemporary motherhood? It certainly recognizes that we all have to juggle a lot of roles.
G/O Media may get a commission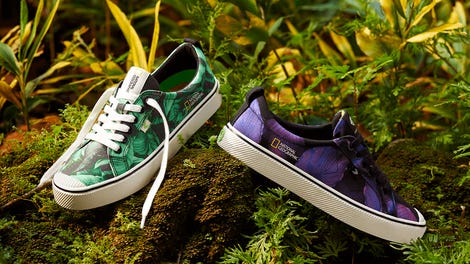 New New New
Cariuma + National Geographic
Feeding baby can be such a chore.
Adding another layer of weirdness to this shoot? The fact that Lily Donaldson dates Vladimir Restoin-Roitfeld, Carine Roitfeld's son.
Those Prada shoes are not recommended past the first trimester.
Chanel, on the other hand, is forever.
I love that this editorial isn't Lily Donaldson's usual prettified English-rose thing. Plus, it's cracking me up. But I'm a little bent. If American Vogue themed a shoot around "motherhood", all we'd get would be posed portraits of Liya Kebede with her baby, looking angelic, Natalia Vodianova with her baby, looking beatific, Milla Jovovich with her baby, looking serene — it'd be a 10-page snoozefest, the mother of all clichés. French Vogue found the tenderness in mothering, but also the humor, the wackiness, the suggestion that it isn't perhaps natural to all women, and the surprise.
You just know Patrick Demarchelier was snapping away when Carine said, in her smoky French Barbara Walters diction, "Leelee? Now we do somesing a leedle osé. Shoot up widt zee bottul. Pretend shoot up. Peuhfect. Yes."
Can you imagine the reader outrage if a similarly unsentimental editorial take on motherhood ever slipped past the censors at Condé Nast USA? Sometimes it's like Carine Roitfeld's sense of glee at not having to edit for American Vogue's outsized sense of propriety just seeps through the page.