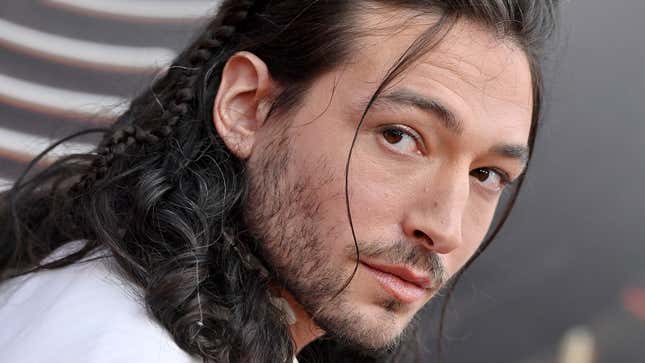 Aside from a brief speech delivered at the June premiere of The Flash, and a statement last August in which they admitted, "I am suffering complex mental health issues and have begun ongoing treatment," we haven't heard much from Ezra Miller in a while. And yet they've been such a loud presence in pop culture, as what sounds like their utterly chaotic lifestyle (along with allegations of various crimes and wrongdoing) have been detailed in multiple reports. But in light of the lifting of a harassment order on Friday, Miller issued an exacting statement claiming they'd been "unjustly and directly targeted" and calling the media to task.

The order, which had been scheduled to expire on July 1, had been pursued by one Shannon Guin, on behalf of her 12-year-old child. As detailed in a Daily Beast article that ran in June 2022, Miller was accused of shouting at Guin and her neighbor, as well as threatening them with a gun. The actor was also accused of lavishing Guin's child with compliments and making the child "uncomfortable by hugging them and pressing their body closely against them." No criminal charges were ever filed.
According to Deadline, Miller's lawyer, Marissa Elkins, said Miller was "never alone with the child and never interacted with the child outside of two brief encounters which occurred in the presence of several other adults." Elkins also said that Miller did not have a weapon on them during these encounters.
Miller's statement, posted Friday on Instagram, begins: "I'm encouraged by today's outcome and very grateful at this moment to everyone who has stood beside me and sought to ensure that this egregious misuse of the protective order system was halted." They characterize the now-lifted protective order as a "weapon" used by "those seeking attention or fleeting tabloid fame or some sort of personal vengeance."
Toward the end, Miller adds that, "I want everyone to know that I am continuing to do my best to preserve my own wellness and what I can to reverse the collateral damage this ordeal has brought upon me and those close to me." The full statement is below:
This is but one hurdle cleared. Last month, my colleague Kady Ruth Ashcraft rounded up all the elements of Miller's recent chaos:
In the past two years alone, Miller has been charged with felony burglary; arrested two times in Hawaii for assault and disorderly conduct; appeared to have choked a woman in a video that made rounds on social media; was accused of grooming a teenager by the teen's parents; allegedly housed a mother and her three children on their Vermont farm that was stocked with guns; and was said to have run a cult out of their Icelandic Airbnb. The only instance of erratic behavior I can somewhat get behind is when they posted an Instagram video threatening North Carolina's Ku Klux Klan.
(Note: After being arrested in March 2022 in Hawaii, Miller pleaded no contest. They were also arrested in August 2022 for burglary in Vermont, after which they pleaded not guilty to felony burglary, but guilty to lesser misdemeanor charges as part of a plea deal.)
Anyway: Ezra Miller still out there—now talking.
---
A moment of zen from Michael Imperioli, Supreme Court edition:
In case the caption isn't showing up for you, it reads: "i've decided to forbid bigots and homophobes from watching The Sopranos, The White Lotus, Goodfellas or any movie or tv show I've been in. Thank you Supreme Court for allowing me to discriminate and exclude those who I don't agree with and am opposed to. USA ! USA!" Thank you for your service, Michael, and good luck enforcing that.
---