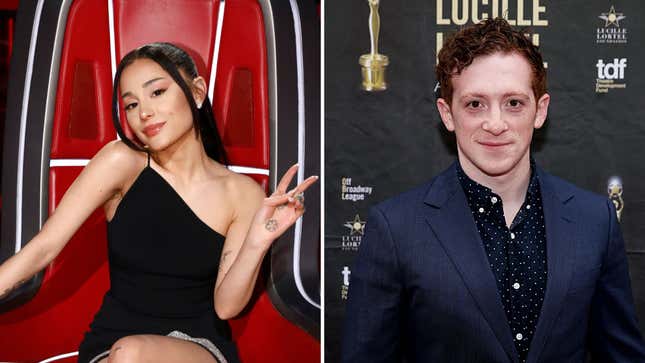 After news broke that Ariana Grande had split from her husband, Dalton Gomez early last week, we learned shortly after that Grande has not opted for a single girl summer and is instead diving into a new relationship with none other than a man who starred as SpongeBob Squarepants on Broadway, Ethan Slater. The two met on the set of the upcoming film version of Wicked. Though it is certainly an unforeseen and strange update to Ari's divorce watch, it seemed the news of her split from Gomez might not be as devastating as we once thought…
Raquel Leviss Told Us 'I'm Like, A Good Person' Just 48 Hours Before #Scandoval
The same can't be said for Slater and his now estranged wife, though. TMZ reported that Lilly Jay, was not in the loop on her husband's dating-other-people thing and feels that Slater has completely abandoned his family. (Sounds about right, tbh.) The two were high school sweethearts, married in 2018, and had a son in August 2022. Sources close to Jay told TMZ that she is "devastated her family's been torn apart" and is "upset" that their less-than-a-year-old son "won't have both his mom and dad around constantly."
Even worse? The sources added that Grande used to hang out with Slater and Jay when they were still together, and TMZ shared a screenshot of Grande liking Slater's recent Mother's Day Instagram post about Jay.

"It's understandable that emotions are high and it's hard seeing your ex move on, especially in such a public way, and her friends are trying to protect her," a source told TMZ. "But Ari and Ethan are just trying to lay low and be respectful of their exes as they pursue this new relationship."

While some gossip rag "sources" have said that everything went down in a respectful way, US Weekly has a different story, reporting that both couples were not fully separated when the Grande and Slater romance began.

"Ethan sat Lilly down a few days before the news broke about him and Ariana and said that he wanted a divorce. Lilly never saw it coming!" a source told the mag. "Ariana and Ethan weren't careful…They'd hold hands on set in between takes. They were sloppy and not hiding it."

I await further updates with deep interest. For now, I'm deeply enjoying Page Six getting desperate for info by interviewing one of Slater's former SpongeBob SquarePants: The Musical costars—who hasn't worked with him since 2017. Lilli Cooper, who played Sandy Cheeks, told the outlet that she was "surprised" to learn of Slater and Grande's relationship. She went on to call them "an interesting coupling," adding that news was "for sure, unexpected." And honestly, I agree.
---