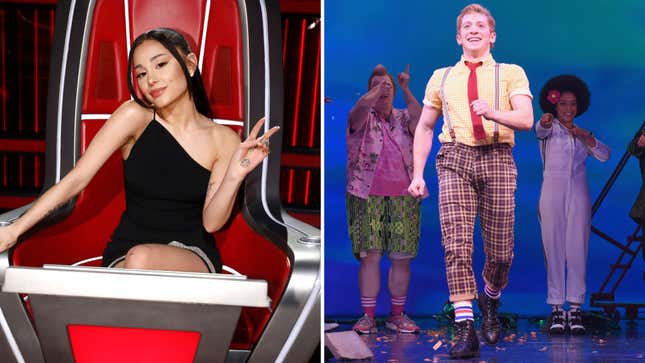 I am not an Ariana Grande stan by any measure. I enjoy "thank u, next" as much as the next woman, and I occasionally chuckle to myself when I remember that she played a secondary character on a Nickelodeon show. Mostly, however, I follow her dating life with a professional degree of interest. And on Thursday, TMZ gifted us all an incredible update on that front: Grande is reportedly dating her Wicked co-star, a man named Ethan Slater who was nominated for a Tony Award in 2018 for his portrayal of SpongeBob Squarepants (another Nickelodeon character!) on Broadway.

I am just tickled by that sentence for so many reasons—primarily that I had mentally blocked out the fact that one of the most prestigious theaters in America had been lit up with Broadway babies belting out songs about Bikini Bottom for nearly a year pre-pandemic. And also because the romantic arc that goes from Pete Davidson to SpongeBob Squarepants really could not be funnier.
Earlier this week, news broke that Grande had split from her husband of two years, Dalton Gomez, and it apparently had been a long time coming. People began speculating about the absence of her ring as far back as August 2022 (though at the time Grande assured fans that her jewelry was just "getting cleaned"). According to TMZ, Gomez and Grande's relationship has been over since January.
That was shortly after Grande began filming Wicked in London. Grande plays Galinda, who becomes the Good Witch (the role inaugurated on Broadway by queen Kristen Chenoweth) and SpongeBob, I mean Slater, plays Boq, a munchkin who is obsessed with Galinda and who later becomes the Tin Man. (If only Boq's storyline worked out the way Slater and Grande's has.) The movie also stars Michelle Yeoh, Jeff Goldblum, and Bowen Yang. I simply cannot wait.
Presumably to get ahead of any home-wrecking rumors, TMZ noted that Grande and Slater only "recently" started dating, and did so only after Slater split with his wife, Lilly Jay, his high school sweetheart who gave birth to their first child last year. (Still not the best look, to leave your longtime partner for a pop star, but such is the entertainment biz, I suppose!)
Many a couple I've enthusiastically gotten behind have met on film sets, and I'm sure the long hours, early call times, and finite time on set create a heightened sense of intimacy very quickly (like summer camp). And Grande and Slater have a lot in common professionally: Nickelodeon-branded properties launched their careers, and they both have singular voices (yes, I confirmed that by subjecting myself to the SpongeBob Squarepants original cast recording for the purposes of journalism). However, I'm drawing a blank about what they may share when it comes to lifestyle.
In any case, their coupling absolutely tickles me, and I wish them a long, happy relationship. But if it ever turns out that this was a PR setup to promote the movie—and Slater's career—I will riot.