Erykah Badu, neo-soul doyenne and sly provocateur, sat down for a long-ranging interview with Vulture's David Marchese to talk about a whole lot of stuff from how music has changed and whether or not she's actually an empath.
Badu hasn't released new music since the 2015 mixtape But You Cain't Use My Phone and her 1997 debut Baduizm is being reissued next month. Despite that, she still tours and manages to stay relevant to listeners who were maybe not even born when Baduizm was released. Like many of her peers who have been around for a while and seen the music industry change at a rapid pace, as physical album sales give way to streams and downloads, she's found herself adapting to the times.
How has hip-hop changed in the two decades since Baduizm?

As much as the people have changed. We're in such a different place. My son, Seven, is a college student and producer, who has a credit on "What's Yo Phone Number / Telephone (Ghost of Screw Mix)" from Badu's last mixtape, 2015's But You Caint Use My Phone. Seven showed his mom how to use Apple's GarageBand software., is 19. I'm seeing him evolve into this creature that I never thought I could create. Without even trying, he's an improvement on his father's design. His thinking. His logic. His compassion. It's an evolutionary cycle. People acted out in new ways when rock and roll first came out, and the blues, and bebop. Here's how I think of it: My favorite cartoon is The Flintstones. It's the funniest thing to me. But when my children are sitting with me trying to watch it, the whole frequency is too slow for them. Everything has sped up and recalibrated; the children are vibrating faster. They're way ahead of us. That's how hip-hop has changed.

Is anything being lost in how younger people absorb music?
You can't roll a joint on the cover of a digital download.
Badu mentions that she considers herself a "humanist," meaning that she has the unique ability to see the good in everybody, including but not limited to Bill Cosby, XXXTentacion and, somehow, Adolf Hitler. When pressed about the "larger discussion" happening in culture around serial abusers, and the thorny issue of separating the artist from their art, Badu said:
I don't want to get scared into not thinking for myself. I weigh everything. Even what you just asked me, I would have to really think about it and know the facts in each of those situations before I made a judgment. Because I love Bill Cosby, and I love what he's done for the world. But if he's sick, why would I be angry with him? The people who got hurt, I feel so bad for them. I want them to feel better, too. But sick people do evil things; hurt people hurt people. I know I could be crucified for saying that, because I'm supposed to be on the purple team or the green team. I'm not trying to rebel against what everybody's saying, but maybe I want to measure it. Somebody will call me and ask me to come to a march because such and such got shot. In that situation I want to know what really happened. I'm not going to jump up and go march just because I'm green and the person who got shot is green. The rush to get mad doesn't make sense to me.

Describing herself as an "empath," Badu waded into the murky intellectual waters of discourse about... whether or not Hitler was a good person.
I'm a humanist. I see good in everybody. I saw something good in Hitler.

Come again?

Yeah, I did. Hitler was a wonderful painter.

No, he wasn't! And even if he was, what would his skill as a painter have to do with any "good" in him?

Okay, he was a terrible painter. Poor thing. He had a terrible childhood. That means that when I'm looking at my daughter, I could imagine her being in someone else's home and being treated so poorly, and what that could spawn. I see things like that. I guess it's just the Pisces in me.
G/O Media may get a commission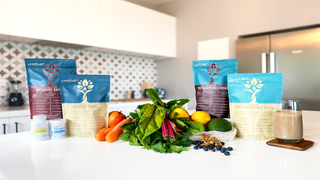 Trotting briskly away from her questionable opinions, the interview also discusses the "Badu effect"—a phenomenon in which rappers who spend time with Badu inevitably absorb some of her mystical, spiritual, the result of which ends up in their creative output.
I was listening to the interview you did recently with Joe Budden, and he brought up the recurring cartoonish image of you as this sort of quasi-mystical sorceress who's always playing mind games with rappers.

The Erykah Badu legend.

Is it frustrating to have that kind of legend follow you around? It seems pretty clearly rooted in a kind of sexism.

I take advantage of it. It's a good thing if people think I'm supposed to be some mystical creature that controls people's minds.

How do you take advantage of it?

I keep the prestige going. I keep up the idea that I'm mystical. The thing about this legend is, I get blamed if rappers do good or do bad — people think these rappers get all confused by my presence.

Can you characterize that presence?

That I take rappers to the sunken place. I don't think that's what I do. I hope it's not.
The interview is a lot for a Wednesday, but it's also quite good. Read it over at Vulture here.