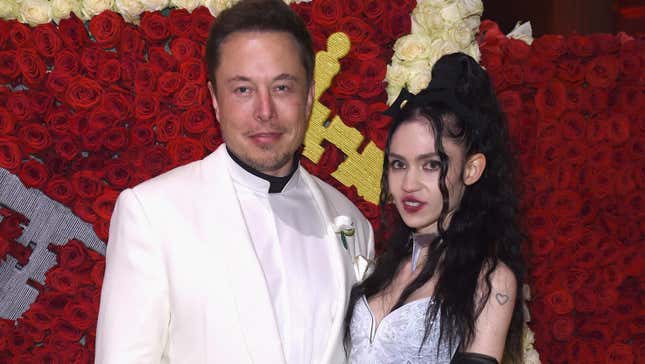 Over the weekend, somehow, through the circus of Chris Evans' alleged secret wedding and Ashton Kutcher and Mila Kunis' "apology" video, we were hit with crazier news, still: Per a new excerpt of a forthcoming biography of Elon Musk, the billionaire and Grimes at some point welcomed a third child, Tau Techno Maximus (?). Tau is Musk's 11th child and his third with Grimes, following X Æ A-Xii and Exa Dark Sideræl Musk, and I truly fear for these kids' safety from schoolyard bullying with names like these.

The Johnny Depp and Amber Heard Defamation Trial Has Begun
This news comes days after Grimes tweeted and deleted a threat to sue Musk for not letting her see their son (unconfirmed whether X or Tau) and amid reports that Grimes was in conflict with Shivon Zilis, the Neuralink executive who gave birth to Musk's twins in 2021, while Grimes and Musk were still together. Per the bombshell biography, Grimes apparently learned of Musk and Zilis' kids with the rest of the public last year—even as Zilis gave birth while Grimes and Musk's surrogate was just down the hallway in the same maternity ward.
The situation (understandably) left Grimes "outraged" at Zilis, who she'd formerly considered a friend but, over the weekend, the two confirmed via Twitter that they'd shared a "wonderful talk" despite how communication regarding their kids "wasn't handled super well" in the past. And it's all rather… embarrassing—not the having kids part and not their conflict, but the idea that Elon Musk is worth all this. Speaking of embarrassing, while referencing her fight with Zilis and lamenting that women are "often pitted against each other," Grimes refers to herself (in the upcoming Musk biography) as "chaotic good" and refers to Musk's other ex Amber Heard—a survivor who was crucified by the public for speaking out in support of other survivors—as "chaotic evil." Hmm!
Per the New Yorker, Zilis said of her decision to have kids with Musk: "He really wants smart people to have kids, so he encouraged me to." Sounds innocent enough on the surface, perhaps, unless you understand that, to a white billionaire who owes the origins of his wealth to South African apartheid, "smart people" is veiled racism and classism, and the comment is a lot more sinister. It's a common refrain among billionaires, several of whom have very publicly spoken about their urgent race to have more kids. They earnestly believe they're genetically superior to the rest of us, are entitled to "take control of human evolution," and that their genes and procreation will save civilization as part of a worldview that flirts with eugenics.
Musk has spent the better part of the last couple of years raging over a hypothetical threat to human civilization unless people—namely himself and other worthy, "smart people"—have more kids. He recently went on Tucker Carlson's now-defunct Fox News show to rail against birth control and abortion and profess his "urge" to impregnate every woman of childbearing age within a 100-mile radius. In a recent interview with Wired, Grimes justified Musk's very public transphobia by insisting he's just worried about trans kids' future reproductive capacity, which is extremely-fucking-creepy, to put it mildly.
Musk has repeatedly called on everyone to immediately have kids, even though none of us have the resources of a billionaire egomaniac to make the decision lightly. But given his comment to Zilis, his own appraisal of himself as the procreating hero this world needs, and his cruel stance against policies like paid family leave and child care, the subtext is clear: There's a very specific type of person that Musk wants to have kids, and that type of person is… Musk.