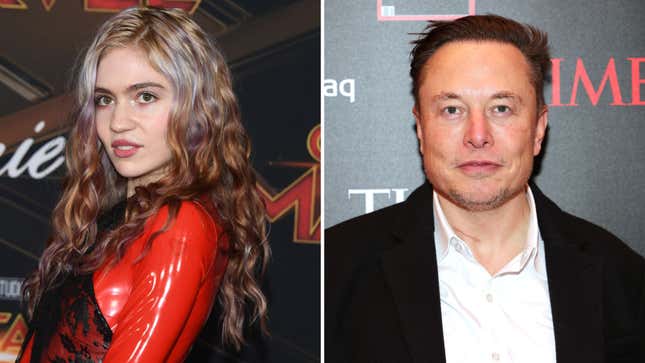 Well, it seems like Elon Musk, right-wing natalist and father of 10 with three different women, might not be a great dude to co-parent with. Whoddathunk?
The Johnny Depp and Amber Heard Defamation Trial Has Begun
In a now-deleted tweet, Grimes responded to a photo of Musk and his new partner Shivon Zilis with their almost-2-year-old twins; the photo was posted by Musk biographer Walter Isaacson. Grimes, who is also the parent of two children with the Tesla and Twitter (or X) CEO, demanded to see her son. Her tweet read:
"Tell Shivon to unblock me and tell Elon to let me see my son or plz respond to my lawyer. I have never been allowed to see a photo of these children until this moment, despite the situation utterly ripping my family apart."
Their son, named X AE A-Xii, was born in May 2020, and their daughter, Exa Dark Sideræl Musk, was born in December 2021 via surrogate. Just one month before their daughter's birth, Musk welcomed twins with Zilis, which I can only imagine would be a complicated family situation for anybody, creepy pro-birther patriarch included.
Grimes' lawyers have not responded to Jezebel's request for comment.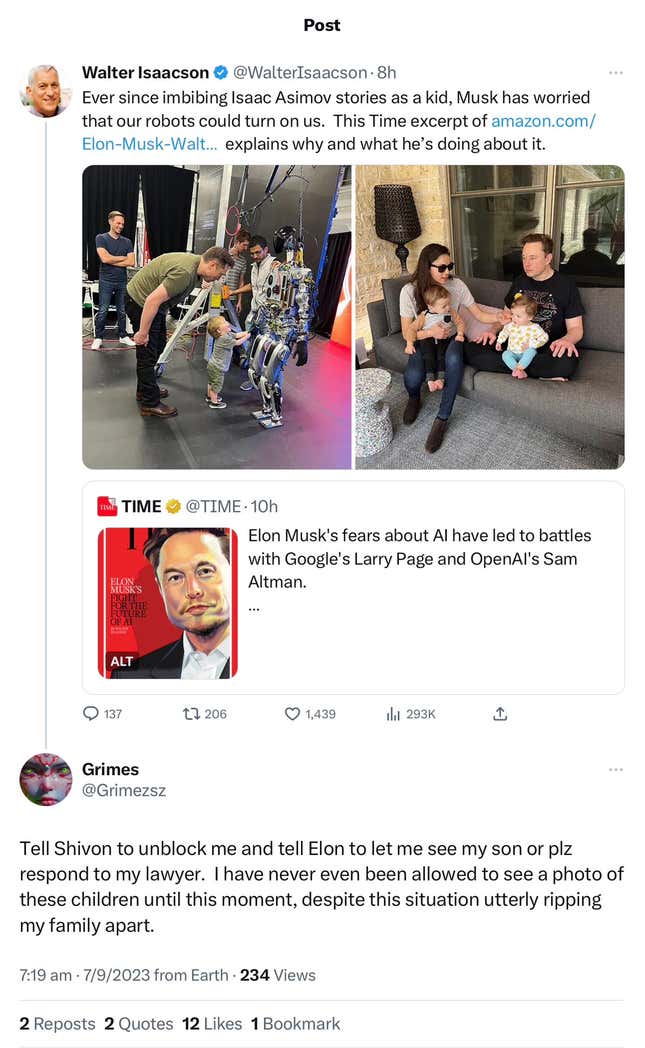 In March 2022, Vanity Fair published a profile of Grimes in which she explained that she and Musk were living in separate houses and that she "would probably refer to him as my boyfriend, but we're very fluid." A day after that profile came out, she tweeted that they'd actually broken up.

News about Zilis and Musk's twins, who were, again, born a month before his and Grimes' youngest child, didn't break until July 2022, and these are the first photos publicly shared of them.
Musk has nine living children (one sadly died as an infant) born between the years 2002 and 2021. One of his daughters, a trans woman who has legally changed her last name to distance herself from Musk, is estranged from her father. When asked about their strained relationship, Musk quipped, "Can't win them all."
Musk's first wife, Justine Musk, wrote in a 2010 essay regarding their shared custody agreement, "When it comes to the children, I deal with his assistant." Seems like the man obsessed with tweeting about birth rates and funding fertility research isn't all that interested in maintaining relationships with the women who mother his own children.
Editor's note: This story has been updated to reflect that Zilis and Musk's twins were not born via surrogate.