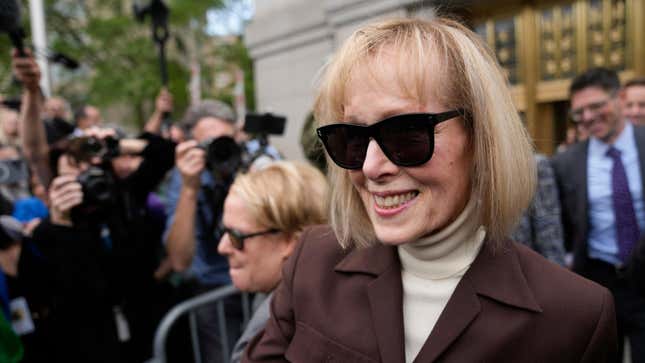 E. Jean Carroll is walking on air. "Yesterday was probably the happiest day of my life," Carroll told Good Morning America on Wednesday.
America's Favorite Pasttime: Dunking On Dr. Oz
What happened yesterday? Oh, just a bit of overdue justice for Carroll when a federal jury found that former President Donald Trump sexually abused and defamed her. The jury awarded Carroll roughly $5 million in compensatory and punitive damages.
"It was this 5-foot-3, wily, female attorney and this elderly, 79-year-old advice columnist who are finally holding Donald Trump liable," Carroll said, describing herself (a former Elle writer) and her lawyer, Roberta Kaplan.
"It was such a wonderful, overwhelming moment," she added.

The case was made possible by a revolutionary law in New York state called the Adult Survivors Act, which opened a one-year window for survivors to sue their abusers, even if the statute of limitations had passed. Carroll filed her suit against Trump on the first day, after first publicly accusing him in 2019 when she published an essay in which she accused Trump of assaulting her in the mid-1990s in a Bergdorf Goodman changing room.
"I feel fantastic," she told Good Morning America, noting that it was a welcome change. The fallout from her public accusation of Trump took a toll. "I only decided to come forward and tell what happened. I thought that was enough," Carroll said. "And then he said terrible things about me. Dragged me through the mud. Ground my face in the dirt."
Trump's attorney Joe Tacopina said he plans to appeal. The jury "rejected the rape claim and [Carroll's team] always claimed this was a rape case, so it's a little perplexing. But we move forward," he said.

Within minutes of the verdict being read in federal court, Trump posted an all-caps message to Truth Social. "I HAVE ABSOLUTELY NO IDEA WHO THIS WOMAN IS. THIS VERDICT IS. DISGRACE," he wrote. "A CONTINUATION OF THE GREATEST WITCH HUNT OF ALL TIME!"
However, Carroll's attorney said she's confident in the outcome. "I've rarely felt more confident about an appeal than I do about this one," Kaplan told Today on Wednesday. "They have no legitimate arguments for appeal."
Which means Carroll has yet another reason to be thrilled.