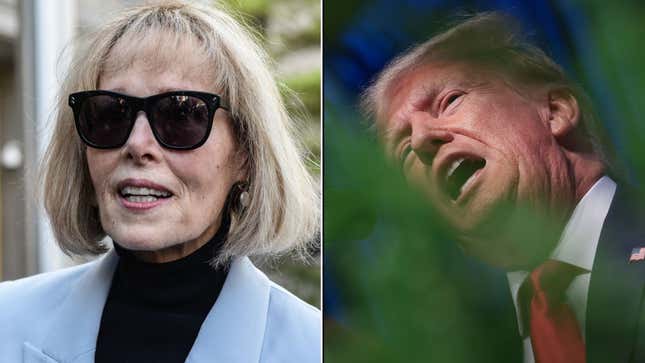 It's been such a dizzying eight years of Donald Trump news cycles that many of us have become numb to all the historic, bombshell developments happening before our eyes. Much of this is by design, as the man is trying to be president again to avoid prison time, and he can only do that through gaslighting. So let's take a moment to really marinate on what happened with the 45th president of the United States just today: As Trump was arrested in Miami on 37 felony counts related to the mishandling of classified documents (plus lying, destroying evidence, etc.), a federal judge ruled in a separate case that the woman who accused him of rape and won a defamation suit against him can now sue him for even more money because he can't keep his mouth shut about her.
Infamously Thin-Skinned Man Joins Twitter's Board
"We look forward to moving ahead expeditiously on E Jean Carroll's remaining claims," Carroll's attorney, Roberta Kaplan, said Tuesday.
To recap: Last month, a jury found Trump liable for the sexual abuse and defamation E. Jean Carroll, stemming from an incident in the mid-1990s in which the columnist claims he sexually assaulted her in a Bergdorf Goodman's dressing room. The jury awarded her $5 million in damages. And the very next day, Trump proceeded to mock Carroll afresh in a CNN town hall, saying among other things that he has never met her and has no idea who she is, that she's a "whack job," that she once called her "African American" newscaster husband an "ape" (there's no documentation of this happening), and that she has a dog or cat named "Vagina." All a bizarre amount of detail to share about a person you claim you've never seen or heard of!
I love the idea that Carroll can just keep suing Trump for more money every time he opens his mouth, like making a kid put a dollar in the swear jar for saying "ass" at the kitchen table. Lisa Bloom, the attorney who notoriously advised Harvey Weinstein and represented some of the women who were sexually harassed at Fox News, said it best on Twitter Tuesday: "Keep talking, big guy."