While the last bastion between us and Justin Bieber's ass has been little more than thin cotton boxers for awhile now, it's all over. I have seen Culo del Beebo, and so will you. These photos were taken at Thanksgiving at his grandma's house in Toronto, where he serenaded her, naked, with an acoustic guitar. Because one shows Grandma their taint. That is what one does.
We're told birthday-suited Bieber went right up to his grandma and started belting out some impromptu lyrics ... like, "I Loooove you grandmaaaa ... how are youuuu ... helloooo grandma."
---
Angus T. Jones grew a liberal arts undergrad beard, and subsequently his friends and family fear that he is contending for the Macaulay Culkin Post-Mainstream Child Stardom Scraggly-Haired Mental Crisis Award.
"He seems to be a shadow of himself and desperate to get away from the looks that made him a a global star and very wealthy. We are concerned about his health, too. Angus has lost a lot of weight over the summer and looks very skinny compared to how he looked on the show. Seems to be suffering some kind of breakdown. He appears in denial about the whole saga."
G/O Media may get a commission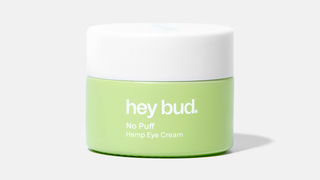 15% off
Hey Bud - No Puff Hemp Eye Cream
The 19-year-old Jones is reportedly considering rejoining the Seventh-Day Adventist Church, where a zealous preacher was behind his crazy evangelical anti-Two And a Half Men speech. (Jones' parents intervened, and he later apologized.) [NYDN]
---
The newest trailer for the Oprah's Next Chapter in which Oprah plumbs the depths of Lindsay Lohan's psyche finds her asking harder questions than my therapist has ever asked me (besides "Does your insurance cover this?") as LiLo makes an understandably terrified ferret face at her:
"Do you think you are addicted to chaos?" "What's going to be different this time?" "When you get the first DUI, is that a wakeup call?" "What do you know about yourself now that you wish you'd known six rehabs ago?"
Dammmmn, this is gonna be some Frost/Nixon shit. Video at the link. [Vulture]
---
Katy Perry's new single Roar, off her upcoming album Prism, was leaked. It is what you would expect, basically: "You drink a whiskey drink, you drink a lager drink, you drink a cider drink, Russell Brand knocked me down and I got up again, etc." (Cue epic hook.)
Also, she actually uses the lyrics "eye of the tiger" and "I am the champion." Which is a little bit like starting your college essay with "I have a dream." Click through to stream. [Celebuzz]
---
Amanda Bynes cried due to nerves over her court appearance, which her doctors say is a good sign. [TMZ]
Kanye West knocked some money off his old Hollywood Hills house, if you want to get in on that. [TMZ]
Courteney Cox broke her wrist (shockingly, not due to a comically massive glass of vinho verde). [TMZ]
Here is Danielle Jonas's tiny baby bump. If she has it in the forest/not in publicity photos, is it really there? [Us Weekly]
Ditto Fergie's, but huge. For some reason cannot picture the other Peas around a woman veritably bursting with a new life, can you? [Us Weekly]
Bey, Jay, Blue Ivy took a ride in a gorgeous convertible Rolls. What did YOU do yesterday? I cleaned my bathroom [Page Six]
Game was denied service at a restaurant because of "his tattoos." He thinks otherwise. [E!]
Kimye is still turning down baby photo offer$. [NYDN]
Kim Kardashian did not appear at Kendall Jenner's 16th beeday party. [Us Weekly]
Sarah Jessica Parker-as-Gloria Steinem's scenes got cut out of Lovelace. Oof. [Page Six]
Shelarious Baldwin's ready to pop at any minute. Latest sonograms show healthy fetus with Alec Baldwin's full-sized head. [Page Six]
Jennifer Aniston had a birthday party for Justin Theroux's 42nd and a fuckload of famous people were there. [People]
Today in "2013 Sentences," the founder of Instagram had a party and Jemima Kirke and some other people were there. [Page Six]
President Obama broke up with Matt Damon. [Gossip Cop]
And Kris Jenner slammed the President for dissing Kim, a hard-working, salt-of-the-earth citizen of America/the world. [Gossip Cop]
Suri Cruise continues her morph into Veruca Salt. [Page Six]
Jane Lynch: Everyone's grieving over Cory Monteith differently. [Us Weekly]
Aw, Lindsay Lohan looks healthy and great. [TMZ]
Ben Affleck visited Lindsay in rehab to discuss a potential role for her in his upcoming movie Live By Night. [Radar Online]
Scott Disick photoshopped all of the Kardashiheads into The Last Supper because why the hell not. [TMZ]
Kevin Federline married his longtime girlfriend me, I mean Victoria Prince, in Vegas. [TMZ]
Holy crap, did you guys know Dean Norris (Hank Schrader from Breaking Bad) went to Harvard? Schraderbrau 4 lyfe. [Vulture]
Tread lightly.