Noted half-man Angus T. Jones, who has starred on CBS's Two and a Half Men for the past nine years, appeared in a YouTube video today in which he called the show "filth" and ordered the pious masses to stop watching or risk their immortal souls, because the scripts are literally farted out by the Devil. OH MY GOD, HUMAN BEINGS, COULD YOU PLEASE GET TWO AND A HALF GRIPS ALREADY.
"Jake from 'Two and a Half Men' means nothing," he says. "He is a non-existent character. If you watch 'Two and a Half Men,' please stop watching 'Two and a Half Men.' I'm on 'Two and a Half Men' and I don't want to be on it."

Jones made his comments in an interview with the Forerunner Chronicles about his religious awakening. In the nearly 15-minute long video, he also talks about taking an "all inclusive evangelism class" and coming to the realization that "God is good." That apparently led him to believe that the comedy he's on is bad.

"Please stop watching. Please stop filling your head with filth, please," he says. "People say it's entertainment … the fact that it's entertainment … do some research on the effect of television on your brain and you'll have a decision to make."

"It's bad news," he adds, shaking his head. "A lot of people don't like to think about how deceptive the enemy is."
Jones is 19 years old and makes $350k per episode. Representatives from CBS, pitiless wardens of Satan's dark menagerie of giggles, have yet to comment. [ABC]
---
Guess what guess what guess what guess what guess what guess what guess what guess what guess what guess what guess what guess what guess what guess what guess what guess what guess what guess what guess what guess what guess what!!!?!?!?!??! Ben Savage AND Danielle Fishel have both signed on for the much-gabbed-about Boy Meets World sequel, Girl Meets World!!!!! I suppose my only remaining question is: Is Mr. Feeny still alive!? I don't want to look it up because I am afraid of the truth. And furthermore, whither Rider Strong and why did he leave Occidental College and transfer to Columbia like ONE SEMESTER before I got there? (STILL MAD.) Anyway, yes. I want it. Give all of it to me. [TVLine]
---
G/O Media may get a commission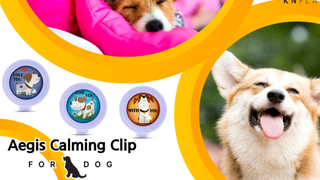 20% off
Aegis Calming Clip for Dogs
It seemed, for one glorious moment, like the world was going to leave Danielynn Birkhead alone (and she was going to let them), right? Wasn't that a nice feeling? But then, nope—PSYCH, BITCHEZ. Not only are we not going to do that (healthy childhood? Boooooring!), we're going to go ahead and deliberately plunk her down right on her famous mom's ill-fated track to stardom, but with about a 20 year head start. By making her the new face of GUESS Kids. Right now.
Like her mother, who soared to international fame as a GUESS girl in the 1990s, Dannielynn is featured posing in the denim duds for the brand's children's line as part of their Spring 2013 campaign.

"Dannielynn has the same playful spirit that her mother had on set," GUESS' Paul Marciano said in a statement.

"She is a second-generation GUESS girl, which makes this campaign a first for us."
Linemouth, world. Linemouth. Liney sees you and liney judges you. :-| [Radar]
---
Can someone get Justin Bieber's fucking pantaloon situation under control? It's a problem literally every day. Here's him getting an award from the King of Canada (I KNOW, YOU GUYS) while wearing one-shoulder drop-crotch overalls. [NYDN]

Kat Von D gave Demi Lovato a tattoo and Demi Lovato loves it. As far as I can tell it's some birds next to the word "farch," which is French for, "No, I didn't bother to read the article." [People]

Elizabeth Hasselbeck says that Chris Brown's fart-tweets at Jenny Johnson were "verbal rape," which makes me feel very complicated. [E!]

Some kind of thing is going on involving Olivier Martinez and Gabriel Aubry punching each other in the noses on Thanksgiving and Aubry Martinez threatening to further punch Martinez Aubry to death and Halle Berry filing an emergency restraining order and Martinez's restaurant getting shut down for having poop in the food. Or something. Berry and Martinez were later spotted "looking rather glum." [E!]

The late Larry Hagman's life will be honored in a private ceremony at the Southfork Ranch in Dallas. I mention this mainly so I can tell you guys that one time Larry Hagman ate at my friend's restaurant in Seattle and went around handing out "Hagbucks" to unwilling strangers, which was fake money with his own face on it. [E!]

Here's Diane Kruger looking "muy caliente" in a fedora because there is literally nothing else happening in the world. [E!]

Nicki Minaj called Steven Tyler a racist. [Deadline]

Some women wore yellow coats. It's not that cute. [E!]

Christina Aguilera and her boyfriend went to Disneyland wearing Disneyland clothes, which reminds me of that scene in Can't Hardly Wait where you're not supposed to wear the t-shirt of the band you're in, so I hope Mike Dexter popped up in the log flume and made fun of them. [JustJared]

Oops, Brad Pitt said the hottest thing ever and my uterus fell out:


"Equality, absolutely, that's what defines us. It's what makes us great," Pitt said when asked about what he thinks about Maine, Maryland and Washington legalizing gay marriage. "If it doesn't sit well with your religion, let your God sort it out in the end, but that's us. We're equal."

Womb Raider. [MTV]

CATCHY!!! [Diabetes]