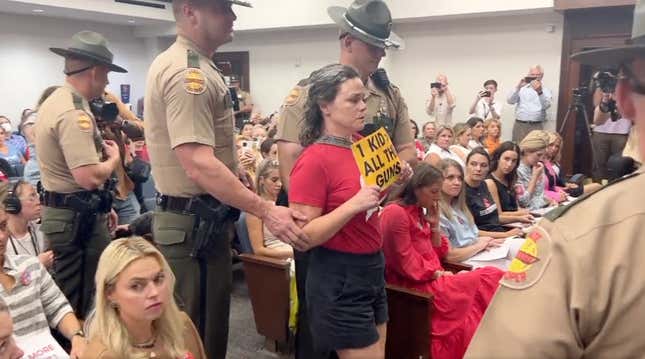 Grieving, crying parents of school shooting victims were among the protesters removed from a Tennessee subcommittee meeting about a new law to allow more guns on school campuses on Monday afternoon, as captured in a video obtained by Nashville's WPLN News.
Matthew McConaughey Gives Impassioned Plea For Gun Reform
The incident comes several months after the Covenant School shooting in Nashville in March, which saw three children and three adults shot and killed. HB 7064, the bill being considered by the subcommittee on Monday, would allow gun permit holders, police officers, and military members (both active duty and retired) to carry a handgun at any public school building.
The subcommittee considering the bill ruled that members of the public were to be barred from holding up signs, but some protesters still held small signs that read "1 Kid > All The Guns," as well as a book called Joaquin's First School Shooting and a scarf that said "Covenant Strong."
Sarah Shoop Neumann, the mother of a survivor of the school shooting, was among several voices who testified against HB 7064. "The presence of firearms in schools is something I cannot speak against more strongly," Neumann said, per the Tennessean. She continued, "Teachers in this state already lack support in the state in terms of funding, staffing and being overwhelmed. And you want to arm them?"
At some point in the meeting, troopers from the Tennessee Highway Patrol physically began escorting protesters from the meeting room, which one Republican leader justified because they'd been making noise and clapping. Three women protesters holding up signs were the first to be removed by the troopers, but per the Tennessean, "the crying of multiple Covenant School parents could be heard" as they were being removed as well.
"We've come to a point where you can't hold up a sign. That's not OK. That's not democracy," the first woman troopers removed from the meeting told the local paper.
The subcommittee meeting comes as part of a special legislative session that Gov. Bill Lee (R) called to try to find middle ground and adopt common-sense gun safety laws that would make it harder for some people to buy firearms. Republican lawmakers seem to be going in… a different direction with their bill to bring guns on school campuses. Once the public was expelled, the subcommittee advanced the bill.
"I don't think they get what this means," Neumann told WKRN about the lawmakers responsible for the bill. "We're here for six people who were killed in our school. We're just trying to do something… It's hard to be here. It's overwhelming."
The Tennessee legislature has had a pretty wild year. The removal of crying, mourning parents of mass shooting victims from a public meeting comes after Republicans removed two Black Democratic lawmakers (and tried to remove a third white woman lawmaker, but narrowly spared her) for joining students in a protest for gun safety laws. The two expelled lawmakers—who, along with the third woman, are now known as the "Tennessee Three"—were reinstated shortly after, but not without a whole lot of drama, including a leaked audio recording of Republican lawmakers complaining about coming off as "racist" because one of them voted to expel the two Black Democratic legislators but not their white colleague.
After all this, that Tennessee Republicans would now remove parents of school shooting victims and proceed to pass a bill that could make schools even more vulnerable to gun violence is almost impossible to comprehend.