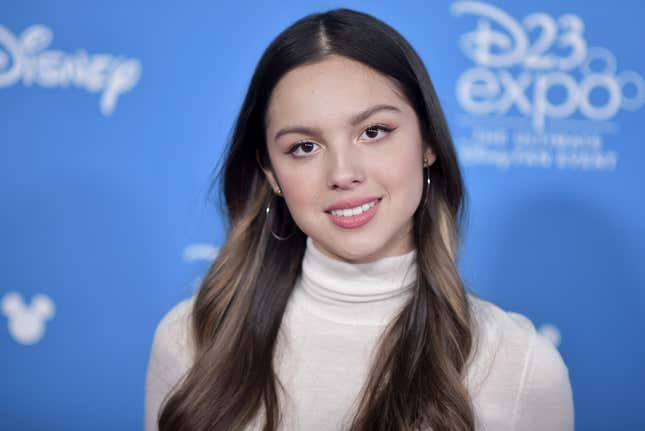 [Extremely Page Six lede voice] Courtney Love has been getting deju vu when she looks at the new promotional image for Olivia Rodrigo's album Sour.
Olivia Rodrigo's Gen-Z Fans Made Me One, Too
Now that I've gotten that extremely bad joke off my chest, here's the dirt: Love is accusing Rodrigo of copying the cover art for Hole's 1994 album Live Through This—an album that came out well before Rodrigo was born, which may or may not be relevant here. On the cover, model Leilani Bishop clutches a bouquet of flowers, eye makeup smudged, while she balances a large crown atop heavily feathered hair. Love sees an uncanny likeness in the promo pic of Rodrigo: Set against her signature purple backdrop, Rodrigo—also wearing a crown—cradles long-stemmed roses, a single Lauren Conrad-like mascara tear running down her cheek. (The image is a teaser for "Sour prom the concert film," Rodrigo said.)
"Spot the difference! #twinning!" Love wrote on Twitter and Instagram, sharing Rodrigo's photo.

The observation seemed goodnatured at first—Rodrigo replied to Love on Instagram, writing, "love u and live through this sooooo much." But Love went on to smear Rodrigo across social media, calling the 18-year-old singer "rude" and demanding an apology.
"Does Disney teach kids reading and writing? God knows." Love wrote. "Let's see. Yes this is rude. Rage inducing? Honey if I had a dollar for everyone [sic] this happens? I'd be real rich!
"Olivia - you're welcome," Love replied to Rodrigo's Instagram comment. "My favorite florist is in Notting Hill, London! Dm me for deets! I look forward to reading your note."
As some have pointed out, the crying prom queen trope doesn't exactly belong to Love and her Hole bandmates alone. (When someone suggested this to Love, she condemned them for trying to "gatekeep" her.) Hole's prom queen redux could itself be inspired–consciously or subconsciously—by the prom scene in Carrie, which came out in 1976.
It might also be helpful to remember that because Rodrigo is 18, she is a lot closer to actual prom than Love was in 1994; Rodrigo is invoking the literal event of prom as well as its aesthetics. "Since i never got to go to prom, I wanted to throw a little prom party with my fav ppl (you guys obvs)," Rodrigo wrote in an Instagram caption for the photo.
I'm sure Rodrigo will send Love flowers anyway, because she seems very sweet, but this is all to say: Maybe Love should chill out!
---