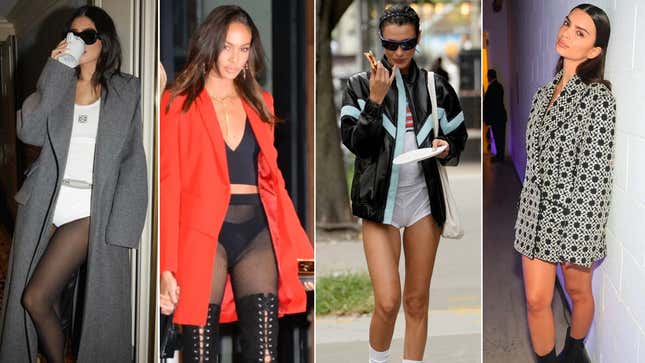 Within days of reports about her (latest) split from NBA star Devin Booker, Kendall Jenner was seen walking the streets in a chic navy sweater, heels, and ultra-sheer tights as pants. Twitter had thoughts, of course—the debate primarily centered around whether the look was something akin to Princess Di's "revenge dress" or more of a cry for help. Personally, I saw it both ways: The outfit was inevitably flattering on Jenner's body, but at the same time, the woman was outside her home sans pants post-breakup—if I did the same, I imagine everyone in my life would look on with concerned empathy (read: pity).

But in recent weeks since Jenner first debuted the pantsless look and even posted it to her Instagram grid, she seems to have influenced celebs and fellow style icons ranging from Dua Lipa and Hailey Bieber to Christina Aguilara and the TikTok girlies, too. Tights-as-pants and just no pants, period, featured heavily at Paris Fashion Week last month too, and Vogue has identified the look as a spring 2023 trend to watch out for. Of course, it's unclear as yet whether this will wind up being a trend for real people that you'll catch suburbanites in your hometown sporting at the grocery store, but I say: Let's just drop trou and go for it.
Between this and the Naked Dress renaissance, I think being playful with what parts of our bodies we choose to show and not show always makes for fun fashion. If you're mentally preparing for this look to be everywhere come spring and seeking some inspo for how to wear it to Target, allow me to help.