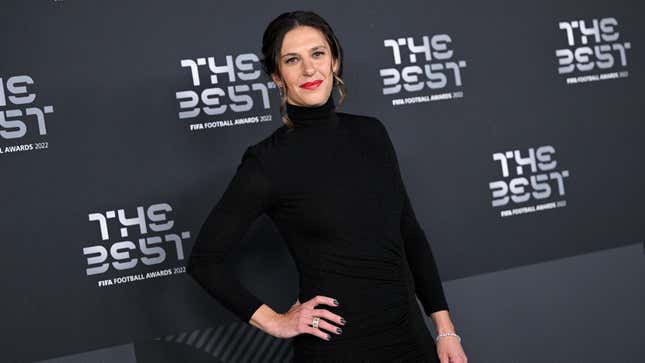 The U.S. Women's team is (unfortunately) out of the World Cup, but that won't stop Carli Lloyd from continuing to talk about how shitty she thinks this team is and how correct (and brave!) she is for voicing that opinion.

The Housewives Have Kept Mum About NeNe Leakes' Lawsuit
Two weeks ago, following the USWNT's game against Portugal in their third match of the tournament, Lloyd, who's an analyst at Fox Sports, said she was pissed to see the players clapping, dancing, and taking selfies with fans—since the game finished in a 0-0 draw and not a U.S. win. "I have never witnessed something like that. There's a difference between being respectful of the fans and saying hello to your family," Lloyd said on the Fox Sports Studio Show. "But to be dancing, to be smiling. You were lucky to not be going home right now." Since this was such a weird and stupid take, she faced a lot of backlash.
"So I think maybe I was the only one brave enough to say it how it is," Lloyd told The Athletic on Tuesday. Ah yes, it takes a lot of courage to get mad at people for appreciating their fans.

"I've always been somebody that is blunt, that's honest, that maybe comes across to the media as being selfish, arrogant, all these words that I've heard about me," she continued. (...which, yes, successful sports commentators need to be blunt and have strong opinions. Fine. But is "stop saying hi to fans" a strong opinion? I lean no.) "And that's been pretty wild to hear because it's really not true. I think there's a fine line between confidence and arrogance, and I just saw this team go in a direction where the values that were built and instilled in this team is not what was displayed out at this World Cup."
Lloyd—who was also the only U.S. player who didn't kneel (to protest racism) during the national anthem at the 2021 Tokyo Olympics, you'll recall—simply strikes me as someone who just wants to have a "TaKe" no matter what. We'll never know, but had the U.S. team acted how she wanted them to act, I bet $500 million that she would have said something like, "Brats! All of them! You should be grateful to playing in another country and to still have fans after that shitty showing!"
In all fairness, the World Cup champion and two-time Olympic gold medal winner did have some fair criticism of this year's U.S. team:
"I was at the tail end of what I saw was a regression with the team, which wasn't good enough in Tokyo (at the Olympics, where the U.S. took bronze). The team was disjointed, was not a unit, and the coaching was not what this team needed. So I saw this, I felt this, I experienced this. I wasn't truly confident in this team winning the World Cup. That's not because of the lack of talent or the lack of players wanting to win. Every player wants to win. But there are certain steps and processes that you have to go through in order to win. There's a certain formula that a championship team has.
Unfortunately, Lloyd went with "I can't believe they're taking selfies" instead.
Spain won 2-1 against Sweden (the team who knocked out the U.S.) on Tuesday, and Australia and England play Wednesday to see who will face off for the Cup on Sunday. Whoever goes against Spain, I'm sure Lloyd will have plenty to say...about why the U.S. team shouldn't have clapped after that one game against Portugal.