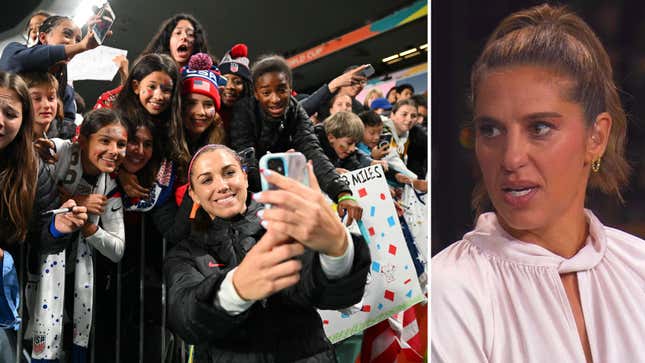 On Tuesday, at 3 a.m. EST, the U.S. women's soccer team faced off with Portugal for their third match of the World Cup and final match of the group stage. After their 3-0 victory over Vietnam and their 1-1 draw with the Netherlands, all they had to do was Not Lose in order to advance to the next round. They tied Portugal 0-0 in what was maybe...not their best game ever. But that's OK! They made it to the Round of 16! Carli Lloyd, the Fox Sports analyst and former USWNT forward, however, had a decidedly more miserable take on the final score.

After the game, Fox Sports showed footage of the players clapping and dancing, Trinity Rodman taking selfies with fans, and Kelley O'Hara signing t-shirts—which really pissed off Lloyd. "I have never witnessed something like that. There's a difference between being respectful of the fans and saying hello to your family," Lloyd said on the Fox Sports Studio Show. "But to be dancing, to be smiling. I mean, the player of the match was that post. You were lucky to not be going home right now."
"I'm all for positivity, but at the same time, the cheering, the dancing, I've got a problem with that. Because I wouldn't be happy. I know several other [former USWNT] players wouldn't be happy with that tie," Lloyd continued Tuesday in her post-game analysis, adding that the game was "uninspiring" and "disappointing." "There have been multiple things out of control, and now it's spiraling on the world stage."
The "player of the match" Lloyd was referring to is the U.S.'s right goalpost. In the first minute of extra time, Portugal's Ana Capeta nearly scored the single goal that would have sent the U.S. home, but it bounced off the goalpost instead. If the rest of Lloyd's remarks weren't super fucking annoying, it would have been a great little joke (that pretty much everyone has made).
"One thing that I want to say is that this team wanted to win this game more than anything else, and they did everything they could in preparation for this tournament and in every game," USWNT's coach, Vlatko Andonovski, said after the game, blasting Lloyd's comments. "To question the mentality of this team, to question the willingness, the willingness to win, I think it's insane."
Lloyd has two World Cup championships and two Olympic gold medals to her name and was awarded FIFA Player of the Year in 2015 and 2016. She retired after the 2021 Tokyo Olympics—where she was the only U.S. player who didn't kneel (to protest racism) during the national anthem. In February 2022, she told Hope Solo on her podcast, Hope Solo Speaks, that she "hated" her last few years on the squad and that the "culture has changed." Around the same time, she said the team had turned "toxic" and that her former teammates were more focused on "building a brand" than fighting to win.

Carli sucks but, to be a tiny bit fair, the U.S. team—who initially seemed primed to win their third World Cup in a row, a historic "threepeat"—has had a shaky and less-than-inspiring start. They're advancing out of the group stage as a No.2 seed with their worst-ever score.
"It is tough to be second, we wanted to go through first," U.S. forward Alex Morgan told NBC Sports. "This team gave everything. We just couldn't put the ball in the back of the net." Their No.2 spot means they'll likely play Sweden on Sunday—one of the world's best teams and a contender for the Cup.
"And it's not like we played well, but we own it. We know it's not good enough," Andonovski said. "We know we're not happy with our performance, but it's, you know, we qualified for the next round. We're moving on." In other words, fuck off Carli.