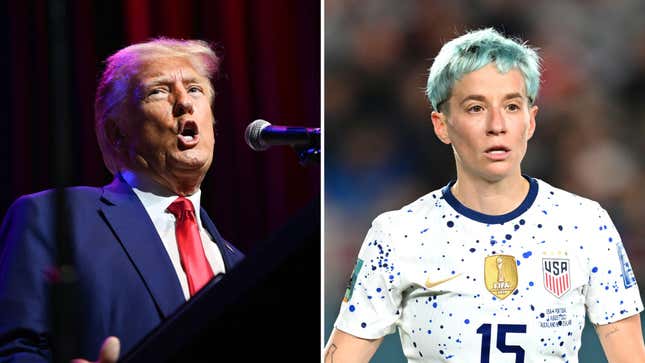 After 120 minutes of goalless play, two-time defending Women's World Cup champions US Women's National Team were eliminated after longtime rival Sweden outscored the team during penalty kicks (PKs), 5-4. The loss marked a heartbreaking end to a history-defining journey, in which US women's soccer—and women's sports at large—enjoyed record-breaking viewership and a swell of support and fandom previously unseen in this country due to, you know, widespread misogyny and conservative posturing.

Despite the political right jumping at any chance they get to defend "fairness" in women's sports (by blocking trans girls from participating), many conservatives were more than happy to celebrate the downfall of the USWNT in the second round—their earliest ever exit from the Women's World Cup. Former president Donald Trump, for one, was quick to add his commentary to the discourse, crediting the loss to "Crooked Joe Biden['s]" America:
"Many of our players were openly hostile to America - No other country behaved in such a manner, or even close," Trump wrote on Truth Social Sunday. "WOKE EQUALS FAILURE. Nice shot, Megan, the U.S. is going to Hell!!! MAGA."
Right-wing Twitter influencer Catturd (I can't believe I just wrote that sentence) also wrote a viral post celebrating the team's loss.
Trump is, of course, referring to Olympian, LGBTQ+ activist, and equal pay champion Megan Rapinoe, whose storied career came to a close with the team's loss. Rapinoe, who had announced her retirement from soccer prior to the tournament's start, was one of the players who missed a PK during the match against Sweden. That this sentiment (Megan Rapinoe = Bad, Enemy #1, Because Megan Rapinoe Defend Trans Girls and Has Soul) came from a former president is depraved enough on its own. But Trump was merely one of a cacophony of loonies cackling about the celebrated team's downfall.
On Monday morning, Piers Morgan published an opinion piece at the New York Post titled, "Don't cry for Megan Rapinoe and humiliated USWNT – they're a bunch of unpatriotic losers," in which he taunted the teammates as "'activist' prima donnas" and an "absolute disgrace." T.J. Moe, a contributor to conservative news site The Blaze, tweeted that he's "glad they lost…The attitude of the USWNT reflect such poor values it's sickening."
For starters, considering soccer is a team sport, Rapinoe and her "woke"-ness obviously did not cause the USWNT to lose. Sophia Smith and Kelley O'Hara missed their PKs, as well, but there's also no use in playing the blame game here: The team was unable to score a goal the entire game, and that's a failure of team dynamic and of poor strategic decisions by controversial head coach Vlatko Andonovski, who is soon expected to get the boot.

To suggest that "poor values"—like Rapinoe refusing to visit the Trump White House after the team's last World Cup win in defense of human rights, or championing the Black Lives Matter movement, or fighting for gender equality on the world stage—caused the team's loss is plain idiotic. Still, the USWNT's future is inarguably bright, with young powerhouses like Naomi Girma, Trinity Rodman, and Sophia Smith all just beginning their respective reigns in the sport. Rather than letting outcast political wannabes and thrice-indicted ex-presidents dampen the impact of this team and this World Cup tournament, we can instead celebrate the USWNT's legacy, which will shape generations of the game to come: Equal pay. Racial justice. International acclaim. And respect for the women's game.