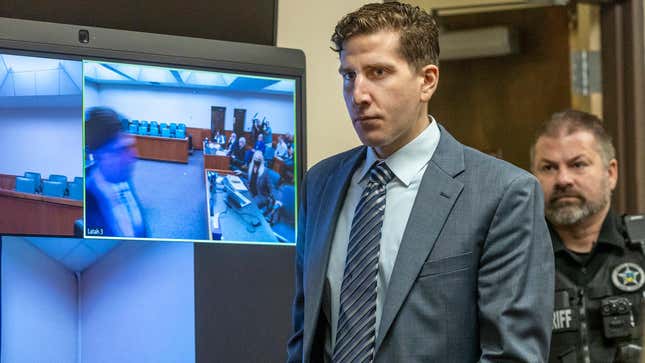 Bryan Kohberger—the man charged in the gruesome homicides of four University of Idaho students last November—waived his right to a speedy trial during an appearance in Latah County Court on Wednesday. Asked by the judge if he was comfortable waiving this right, Kohberger responded, "Absolutely." As a result, Kohberger's trial, which was initially set to begin on Oct. 2, is now postponed indefinitely.

In May, Kohberger was indicted by a jury on four counts of first-degree murder and one count of felony burglary and was arraigned shortly after. At his arraignment, he didn't enter a plea, requiring the judge to plead not guilty on his behalf. In Idaho, criminal defendants must receive a trial date within six months of their arraignment unless they choose to waive this right, which Kohberger did on Wednesday. According to CBS, a new trial date will be set at hi next hearing scheduled for Sept. 1, but the Daily Beast notes this new date could actually be years from now.
Kohberger is accused of murdering students Madison Mogen, Kaylee Goncalves, Xana Kernodle, and Ethan Chapin in the early hours of the morning last year as they slept. Ahead of the Wednesday hearing, family members of Kaylee Goncalves specifically expressed fear that Kohberger would waive his right to a speedy trial, saying they're afraid this will allow him to evade justice for years. "We want to get this trial over," Goncalves' family members wrote in a joint Facebook post reviewed by the Idaho Statesman. "Just thinking it could be years absolutely kills me."
However, both Kohberger's defense team and prosecutors are in agreement about postponing the trial. Kohberger's lead defense attorney Anne Taylor argued that an Oct. 2 start date provided "inadequate time for proper legal counsel," and Latah County Prosecutor Bill Thompson called postponing the trial a "smart move."
In June, prosecutors declared their intent to pursue the death penalty against Kohberger if he's convicted. On Wednesday, Taylor said her team intends to file motions to strike the death penalty and also ban cameras in the courtroom during his trial.
Just last week, Taylor argued that prosecutors were withholding information about DNA found at the crime scene and questioned the DNA found on a knife sheath at the crime scene that connected Kohberger to the killings. Kohberger himself claimed last month that the sheath was planted by police. "They have provided full DNA discovery for the sheath, the knife sheath, but not the other three unidentified male DNA samples," Taylor told the judge on Wednesday.
In response, Thompson said the prosecution has "given the defense everything that we have received from the lab. They've asked for DNA work-ups on other people. To the extent that they don't have them, they weren't done." He continued, "We can't produce something that doesn't exist."
Over the last several months, forensic evidence as well as cell phone data and surveillance camera footage have all been piling up against Kohberger. And his only alibi, provided earlier this month, is that he was driving around by himself on the night of the murders.
The University of Idaho killings have been the subject of public fascination for a year now, between online conspiracy theories—disavowed by family members of the victims—about the surviving roommates, creepy revelations about Kohberger's past, and the women on the internet who say they're in love with him. It's likely the delay in Kohberger's trial will only prolong the media frenzy.