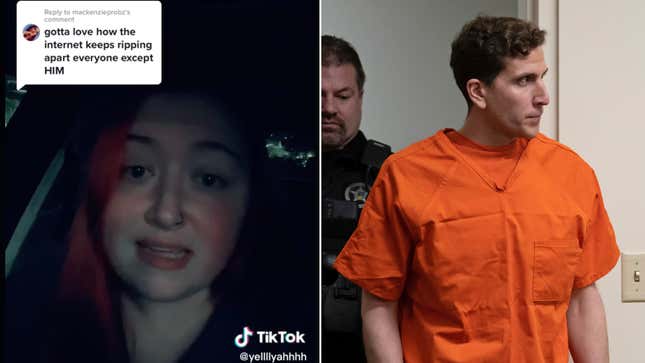 A woman named Hayley is sharing her story of a date she went on with Bryan Kohberger, the 28-year-old man now suspected of killing four University of Idaho students at their apartment last year.

Infamously Thin-Skinned Man Joins Twitter's Board
In a TikTok first posted over the weekend, Hayley, @yellllyahhhh, referenced comments she'd written under an article in her local newspaper earlier this month about her Tinder date with Kohberger "over 7 years ago." Since the comments she made, she said "a lot of people have been trying to dox me, specifically on Reddit, but I never thought the comments I made on Ho Bott News would make it to TikTok or Reddit or literally anything."
According to Hayley, her interactions with Kohberger were "very brief." They matched on Tinder, talked for a couple hours, and went on a movie date, but she says "he completely changed" when they got back to her dorm and he "invited himself inside." She claimed he "was very pushy when it came to coming back in my dorm with me. But I didn't get like scary vibes or anything from that. I just thought he was a stage five clinger because he said he wanted to spend more time with me." At her dorm, Kohberger "kept trying to touch me," prompting her to ask him, "Why are you touching me, what are you doing?"
At this point, Hayley claimed that Kohberger "got super serious" and denied touching her altogether: "He's like, 'I'm not,' and I'm like, 'you are, though,' and he's like, 'I'm not touching you,' kind of trying to gaslight me into thinking that he didn't touch me, which is weird." When she excused herself to go to the dorm bathroom, she says Kohberger followed her and waited outside. She eventually lied to him that she was throwing up in order to get him to leave. "It wasn't because I was scared of him or thought he would hurt me if I asked him to leave. It was just mostly because I'm socially awkward, I didn't know how to ask him to leave," Hayley concluded.
After he left, Hayley claimed Kohberger texted her that she had "good birthing hips," and they didn't speak or see each other again. Speaking to the New York Post on Tuesday, Hayley noted that Kohberger "was not even the creepiest or scariest Tinder date I've been on."
Since sharing her story, Hayley revealed in subsequent TikToks that she's faced harassment and people taking issue with how she doesn't remember what movie they saw, and criticizing her for "allowing" Kohberger inside her dorm. "I didn't really allow him inside. When he parked his car, I assumed he just wanted to sit and talk," she said. "And then when I mentioned going inside, he just said, 'I'll go with you.'"
She's been asked for photos from her Tinder profile at the time, while other commenters have called her videos about the date insensitive following the University of Idaho murders; others have even criticized her appearance. But some commenters have also defended Hayley and pointed out that, like the surviving roommates who are being picked apart and blamed for not calling police soon enough, almost everyone but Kohberger is being blamed for the murders he allegedly committed.
Hayley did not immediately respond to a request for comment from Jezebel.
In the comments Hayley posted earlier this month, she similarly recalled that Kohberger "kept trying to touch me and kept looking at me and laughing weirdly and when I would ask why he was doing that he literally would tell me he didn't." In another comment, Hayley wrote that Kohberger "gave me really creepy vibes and I was scared to ask him to leave so I pretended to loudly vomit in the bathroom so he would leave." She added, "Always listen to your gut."
Kohberger, a PhD student studying criminology at Washington State University, is charged with the stabbing deaths of University of Idaho students Xana Kernodle, Madison Mogen, Kaylee Goncalves, and Ethan Chapin. Shortly after Kohberger's identity was revealed, old Reddit posts that appear to be his resurfaced in which he sought participants for a survey on "how emotions and psychological traits influence decision-making when committing a crime." The survey also asked how individuals "prepared for their crimes," how they would approach a target before "making a move," and their "thoughts and feelings throughout [the] experience."
Kohberger was also a teaching assistant, and his students said that he began acting differently after the murders: "Definitely around then, he started grading everybody just 100s. Pretty much if you turned something in, you were getting high marks," one student recalled to the New York Post earlier this month. "He stopped leaving notes. He seemed preoccupied." The student added that Kohberger came to class with "a little more facial hair, stubble, less well-kept. He was a little quieter."
Police have linked Kohberger to the murders through evidence collected from the scene, as well as cell phone records suggesting that he staked out the University of Idaho students' house for months before the murder.
Speaking to the Post, Hayley said she "[hopes] that if any young women see my story and think they're invincible, they learn that taking precautions when going on dates with people you meet online is so important." But at the same time, her story clearly shows it's ultimately pretty difficult to make these judgments.