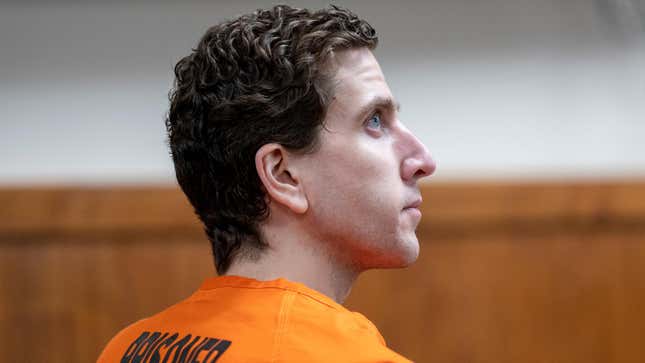 Last Wednesday, Bryan Kohberger—the man charged in the gruesome homicides of four University of Idaho students in November—was indicted by a jury on all five charges of murder and burglary against him. At a Monday morning hearing in which Kohberger was expected to enter a plea, NewsNation reports that Kohberger instead stood silent and refused to enter his own plea. The judge had to enter a not guilty plea on his behalf, as Kohberger reportedly stared forward and listened to the names of the people he stands accused of violently killing.
Prosecutors will have 60 days to seek the death penalty against Kohberger. The case is set to go to trial on Oct. 2 and is expected to last six weeks.
Kohberger is charged with the stabbing deaths of four University of Idaho students: Kaylee Goncalves, 21; Madison Mogen, 21; Xana Kernodle, 20; and Ethan Chapin, 20. He allegedly broke into the students' off-campus home early in the morning on November 13, and cell phone data suggests he visited the area surrounding the house several times before and after that day. Kohberger also appears to have repeatedly messaged one of the victims on Instagram before the killings.
In the wake of the quadruple homicide, Kohberger evaded police suspicion until a weeks-long search ultimately led to his arrest at his parents' home in December. Before that, Kohberger had been able to resume his work as a teaching assistant at Washington State University, where students he worked with said Kohberger began acting differently after the murders: "He stopped leaving notes. He seemed preoccupied," one student told the New York Post in January.
Family members of the Idaho victims were present in the courtroom for Monday's hearing, and some of them were seen wiping away tears.
In a statement shared on Monday, Goncalves' family expressed gratitude to the Latah County district attorneys prosecuting Kohberger and referenced their ongoing legal fight to lift a court-ordered gag order on the case, which prohibits attorneys, prosecutors, law enforcement, and others involved in the case from talking to the news media. "We are disappointed the judicial process has not been more efficient in addressing the Gag order," the statement reads.
Attorneys for Kohberger have claimed the gag order is necessary to ensure he can receive a fair trial.