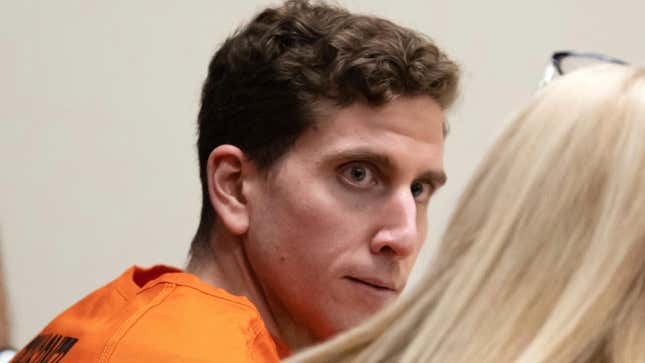 On Wednesday afternoon, Bryan Kohberger, the man charged in the gruesome homicides of four University of Idaho students last November, was indicted on all five charges against him by a grand jury. Kohberger faced four counts of murder and one count of burglary.

Don't Call Them "Riots," Says Historian Elizabeth Hinton—They're Black Rebellions
A new hearing has been set for Monday, and Kohberger is expected to enter a plea at this hearing. A previously scheduled preliminary hearing for Kohberger's trial has now been canceled. KREM reports that this move suggests the grand jury is confident there's sufficient evidence for the case to move to trial. (State law in Idaho requires prosecution to prove there's enough evidence to go to trial, as determined by either a grand jury ruling or preliminary hearing.)
In March, a former FBI agent argued there's a "strong case" for the death penalty to be pursued against Kohberger.
Early in the morning on November 13, Kohberger reportedly broke into the off-campus house of students Kaylee Goncalves, 21; Madison Mogen, 21; Xana Kernodle, 20; and Ethan Chapin, 20. Cell phone data shows Kohberger previously visited the area around the home and returned after the killing. He also appears to have repeatedly messaged one of the victims on Instagram before the killings.
Shortly after the quadruple homicide, police embarked on a weeks-long search for the killer, ultimately leading to Kohberger's arrest at his parents' home in December. In the immediate aftermath of the killings, Kohberger resumed his work as a teaching assistant at Washington State University. His students claimed Kohberger began acting differently after the murders: "Definitely around then, he started grading everybody just 100s. Pretty much if you turned something in, you were getting high marks," one student recalled to the New York Post earlier this year. "He stopped leaving notes. He seemed preoccupied."
Prior to the killings, Kohberger shared a survey on Reddit seeking to learn "how emotions and psychological traits influence decision-making when committing a crime." The survey also asked how individuals "prepared for their crimes," how they would approach a target before "making a move," and their "thoughts and feelings throughout [the] experience."
The Idaho killings, and Kohberger in particular, have become the subject of significant cultural fascination in recent months following his arrest at the end of last year. Harmful and unfounded conspiracy theories have run rampant about the surviving roommates of the four slain college students. Women Kohberger allegedly went on dates with as well as current and former students have shared their stories and misgivings about him, while at least one woman on the internet said she has fallen in love with him.
And all of this unfolds as the victims' families continue to grieve.