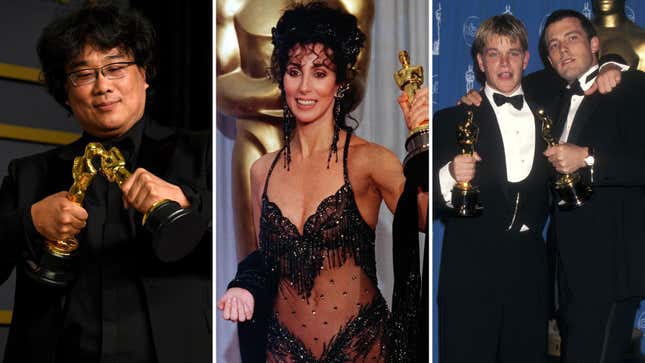 I tend to keep a few square feet in the back corner of my brain's storage room vacant for the pure ecstasy that is the Oscars live telecast each year. It's not so much that I expect Hollywood's annual navel-gazing event to produce anything truly groundbreaking. If anything, I fear the jokes are bound to grow more stale with each passing category; even the Academy itself knows its viewership is declining at an unsustainable rate, going so far as to consider a heinous TikTok-ified format to restore its relevance. And, more often than not, the Academy Awards are quite a snooze of an affair: Wretched Chanel gowns. Teeth so brightened by Crest Whitestrips they glow in the dark. White hands delivering Oscars into more white hands.

But there's something about the magical serendipity of it all—the fact that at any point the preeminent awards show might go careening off the rails due to a tasteless joke, a deafening slap, or a Best Picture gaffe so egregious that you may never again be able to watch a film like La La Land without experiencing an awkward shiver up your spine. And once in a blue moon or so, the ceremony gifts us exactly that: a purely unscripted moment worthy of an Oscar of its own.

In honor of such kismet, the Jezebel staff has rounded up the moments we can't stop thinking about from Oscars past that still spark joy—whether that joy be a deliciously cringeworthy hiccup, an acceptance speech so genuine it dazzles, or an audience so far up their own arses that they fail to realize the joke was always on them. Live from the Jezebel offices, join us as we honor Hollywood's best and brightest…and its worst and most idiotic, too.

The 95th Academy Awards are Sunday, March 12 at 8 p.m. ET, and will be broadcast on ABC.