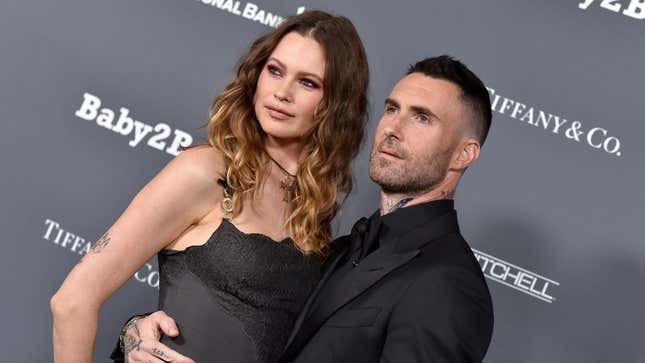 Adam Levine and wife Behati Prinsloo have welcomed their third child, People reported early Monday. The couple currently shares two daughters, ages 4 and 6, but the sex of their third child has yet to be revealed.
Crush of the Week: Daniel Radcliffe's Weird Al
In any case, given all the circumstances leading up to the birth of the new Levine-Prinsloo baby, several of my colleagues and I reacted to this news with a simultaneous "Ope!" As a refresher, in September, Levine was outed as—at the very least—a serial sexting cheater, first by an influencer named Sumner Stroh who shared screenshots of a series of texts from Levine in a now-deleted TikTok. In one of them, he appears to ask her permission to name his unborn child after her—only if turned out to be a boy, though!
"Ok serious question. I'm having another baby and if it's w [sic] boy I really wanna name it Sumner. You ok with that? DEAD serious," the Instagram DM from Levine reads. Really makes you wonder if Levine was talking to women named Gio Grace or Dusty Rose (the names of his four and six-year-old daughters) at the time that Prinsloo was pregnant with them.
In the same TikTok, Stroh shared other direct messages from Levine in which he wrote, "It is truly unreal how fucking hot you are" and "it blows my mind," referring to her hotness, of course. According to Stroh, per her TikTok in which she recounted her alleged affair with Levine, the DM regarding potential baby names came months after the two ended a long-term extramarital relationship. "Adam and I were seeing each other for about a year, after I stopped talking to him over a period of months," she explained. "This is how he came back into my life."
Levine denied physically cheating on Prinsloo, instead acknowledging that he'd "crossed the line" in his texts to Stroh and other women who came forward with similar screenshots of cringe sexual texts from him. (Seriously, where did this man learn to sext??)
The day after Stroh's TikTok, he shared a statement on Instagram addressing her claims: "A lot is being said about me right now and I want to clear the air. I used poor judgment in speaking with anyone other than my wife in ANY kind of flirtatious manner," he wrote. "I did not have an affair, nevertheless, I crossed the line during a regrettable period in my life."
Levine acknowledged that "in certain instances" his conversations with women "became inappropriate," and claimed he "addressed that and [took] proactive steps to remedy this with my family." He continued, "My wife and my family is all I care about in this world. To be this naive and stupid enough to risk the only thing that truly matters to me was the greatest mistake I could ever make. I will never make it again. I take full responsibility."
Levine and Prinsloo were first linked in 2012 and married two years later in 2014. Their daughters were born in 2016 and 2018, and they announced their third pregnancy in September. Within weeks of the couple's cheerful pregnancy reveal, Stroh dropped the TikTok bombshell that would prompt other women to share their own Levine cheating stories—and launch an avalanche of memes poking fun at Levine's overly enthusiastic messages.
In November 2021, Prinsloo told Entertainment Tonight that she and Levine wanted "a big family," including around five kids, but the two are ultimately "leaving it up to fate and just what happens." Here's to hoping Levine has thrown his phone into the sea.