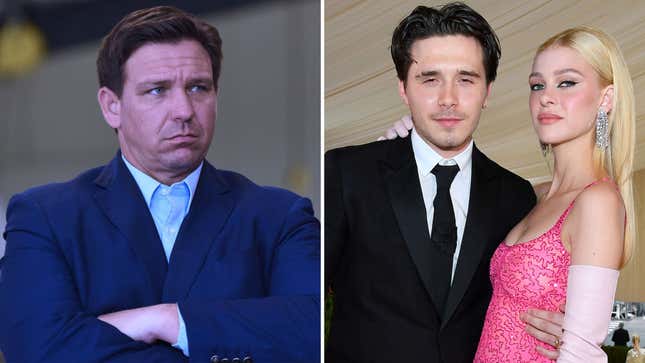 I'm generally of the opinion that billionaires shouldn't exist and tend, more often than not, to disagree with them. But it's come to my attention that Nicola Peltz Beckham, a billionaire's daughter, was very clear in texts leading up to her wedding to Brooklyn Peltz Beckham that Florida Governor Ron DeSantis should be turned away at the door. It certainly seems that for some, wealth can provide good taste, indeed.
Ana Gasteyer Satirizes the Girl Boss in 'American Auto'
"Very important those certain politicians are NOT on the list," Nicola texted her wedding planner in February 2022. A few days later at 1:09 a.m., court documents show she followed up with: "desantis must be OFF THE GUEST LIST. PLEASE CONFIRM!!" I get it! I would also be up at night worried about DeSantis showing up to my wedding if it were even a remote possibility.
The reason we're getting all of Nicola's wedding planning texts is less fun than the celebrated hobby of bashing Meatball Ron. Nicola's father Nelson Peltz, a Republican donor and billionaire Trump supporter is suing his daughter's wedding planners, Nicole Braghin and Arianna Grijalba of Plan Design Events, for not returning a $159,000 deposit after they bailed nine days into the gig. Braghin and Grijalba were hired after the original wedding planner stepped down, six weeks before the wedding. (Always a good sign when wedding planners continually back out of the job. Definitely not worth looking inward and asking yourself what the common denominator is.) "During their nine days of negotiations, PDE failed to book a single new wedding vendor, failed to finalize the terms of any agreements with any of the vendors that had previously been selected by Peltz and his family, and failed to attend previously scheduled meetings with Peltz," the suit read.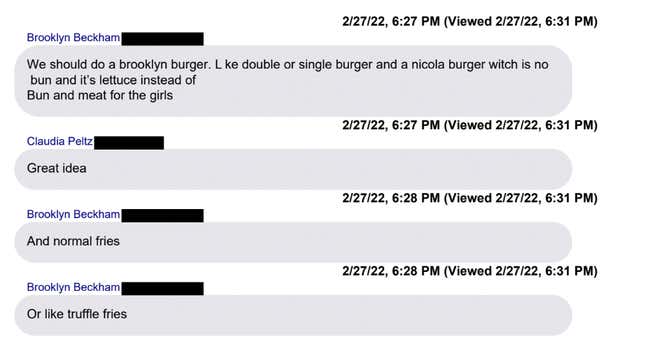 G/O Media may get a commission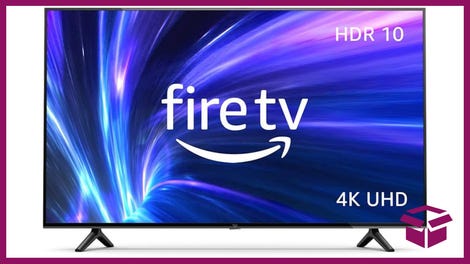 42% Off
Amazon Fire TV 50" 4K Smart TV
The new court docs also reveal chaotic details like Brooklyn, a dubiously talented chef and comically absent groom, requesting the wedding serve a burger for girls, a burger for boys, and normal fries. ("Or like truffle fries.) Culinary savant alert!!! Someone double the $100,000 he already spends on producing his cooking videos, STAT! Then there were more disconcerting revelations like Claudia Peltz, seen in the above screenshot praising her to-be son-in-law for gendering burgers, begging the planners to not let her husband know the true cost of the wedding because he would "kill her, and be so mad" if he found out. The vibes seem bad, to be honest.
Blacklisting DeSantis appears to be the most clear-headed decision that was made during the wedding planning process. Politics aside, I can't imagine any scenario in which he would add a fun ambiance to a wedding. He'd most certainly show up and frown in the corner the entire time while his wife, Casey DeSantis, would pose in an outfit meant to absolutely upstage the bride. But bringing politics back into the picture, no one who is endangering the lives of queer kids and working to actively dismantle Black history education in schools should get even an iota of pleasure dancing to "Y.M.C.A." I don't want DeSantis tapping even his pinky toe to Earth Wind and Fire. May every tossed bouquet bonk him on the head forevermore. Or better yet, may he be trapped in a never-ending conga line of offensive uncles that keep him out of politics for the rest of his life.