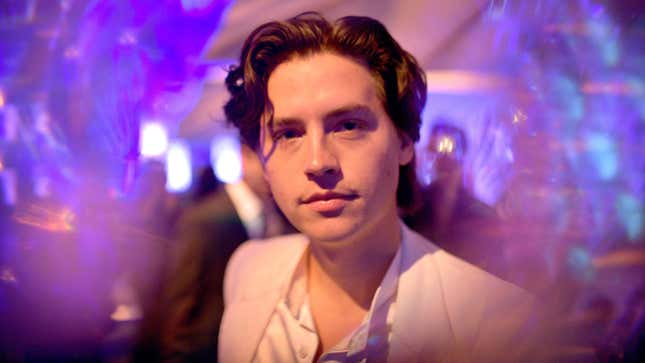 I grew up on Disney's The Suite Life of Zack and Cody, so the Sprouse brothers have always held a fascination for me. Cole Sprouse, who played shy-nerd type Cody opposite his brother Dylan, who played resident bad-boy Zack, grew up being framed as the quieter and more sensitive of the two; it's this memory of how we once knew Cole Sprouse that makes his recent appearance on Call Her Daddy all the more jarring.

'Bridalplasty' was the Frankenstein's Monster of Reality Shows
I was compelled to not just listen, but also watch the video version of the podcast episode that dropped Wednesday, by its trailer clip, in which Sprouse asks host Alexandra Cooper for permission to smoke indoors inside her home. She agrees and Sprouse spends the bulk of the hour-long interview lighting up, holding the cigarette to his lips, and dabbing it in an ashtray—all while clad in a dress shirt, denim, and work boots. The early reactions have been understandably disdainful: "Him smoking indoors like he's French or something this is so…" one user wrote. "He gives me the ick," wrote another.
To those comments I say: You haven't seen anything yet. Throughout the interview, Sprouse manages to sprinkle an SAT vocab word in every sentence, even dropping the M-bomb (macabre) a couple of times. He refers to "celebrity and success" as well as "financial excess and surplus in a single generation" as "an elected trauma." He recalls being atheist while nearly all his fellow Disney stars were Christian, challenging them to lengthy "debates," and galavanting about the studio as "an intellectual bully." He dropped an array of proverbs that sound like they came from a pretentious uncle, as he insists that, when appraising different Disney alums' recollections of their time at the network, we should evaluate "the history based on the historian." OK!
Sprouse did, indeed, have plenty of interesting things to say. A fair amount of tea was spilled—that's what Call Her Daddy is for, after all. He recounted losing his virginity at age 14 on vacation in Florida after looking an "older" girl in the eye and asking her, "So, uh, are you, like, D-T-F?" He talked about being "emotionally cheated on" by every girlfriend he's ever had (and physically cheated on by his first), as well as the tumult of his long-term relationship with Riverdale castmate Lili Reinhart, which ended in 2020. In a particularly juicy moment, when pressed by Cooper on his claim that the break-up was mutual, he ultimately claimed, "I left," and that he should have been "more selfish" at different points in the relationship—something that has rarely, if ever, been true coming from a man.
In other words, Sprouse certainly dished and my interest was sustained throughout an hour-long podcast episode, which rarely happens. But fairly quickly, my consumption of the episode became a hate-watch: Sprouse came off as every classmate in my undergrad political philosophy courses who showed up to class in a suit—or, worse, that one guy in your G.E. history of cinema class sporting a beret, hand perennially raised. It's not exactly unheard of for a man who self-identifies as (or was told throughout his upbringing that he is) the shy, sensitive one to morph into an indoor cigar-smoking art douche by age 30. But for Sprouse, at least, the transformation from a cute, bowl-cut kid on my TV screen growing up to this feels so intense as to induce whiplash.
Look, I'll never personally know this man—though, based on this interview, I'm not necessarily sure I'd want to. But I think he could benefit a lot from coming back down to earth, perhaps pausing to reflect next time he has the sudden itch to use the word "macabre." His remarks throughout the interview, while oft illuminating the controversial world of child stardom, were nearly as cringe as his Riverdale character Jughead's famous "I'm a weirdo" monologue.