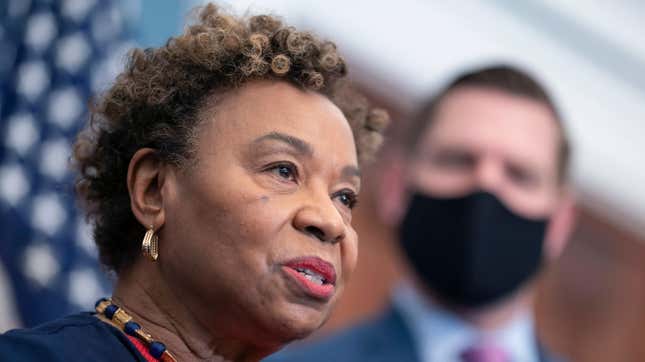 Rep. Barbara Lee (D-Calif.) officially entered the race for Senate on Tuesday, announcing her campaign for the seat that Sen. Dianne Feinstein will (finally) vacate at the end of 2024. It's early days, but Lee is joining an already crowded field.
Republicans Pull Out All the Stupid Stops While Debating Abortion
The Democratic slate for the open seat is stacked. Rep. Katie Porter (D-Calif.) announced her candidacy in early January, followed by Rep. Adam Schiff (D-Calif.) later in the month. Both candidates made names for themselves during the legislative chaos of the Trump years, frequently crafting viral news clips during committee hearings and making cable news appearances.
By contrast, Lee is progressive stalwart and has been a member of the House of Representatives since the late 1990s. She was the sole vote against the Afghanistan war authorization, and has been a longtime advocate for domestic violence prevention; ending childhood poverty; and upholding reproductive rights, the latter of which Lee spoke to Jezebel about last month. (In that same interview, she declined to expressly confirm that she would be running for Feinstein's seat, though leaks from Congressional Black Caucus meeting last month suggested otherwise.) Lee's continually sponsored bills to permanently end the Hyde Amendment, which bans federal dollars from paying for abortions.
Despite her progressive credentials, Lee faces many of the same questions as Feinstein. There's no way around this: Feinstein is 89 and has shown signs of not being up to the task of representing California's 39 million people. Lee— who is now 76 years old and would be close to 80 when the Senate term starts—is fielding some of those same questions about her age. Last month a campaign source told the San Francisco Chronicle that Lee would only run for one term to counter such questions, but Lee has since walked that back.
In her first interview of the campaign, Lee told the Chronicle that her "lived experiences" are what sets her apart from her opponents. "What I bring is not only my lived experiences, but my history of my progressive values and being able to turn my lived experiences into policy initiatives, and being able to... help lift people out of poverty," she said.
Lee also addressed her age in the interview. "Bernie Sanders is older than myself, and he won California," Lee said of the now-81-year-old Vermont senator's success in the 2020 presidential primary. "It's about speaking to the voters. If Bernie Sanders can win a primary in California, then Barbara Lee certainly can win to be the next United States senator. Come on." (Sanders was running for a four-term that would have ended when the six-year term Lee is now seeking would start, but I see her point.)
Before Lee's official announcement, the biggest wrench thrown into the Democratic primary was Rep. Nancy Pelosi (D-Calif.) almost immediately endorsing Schiff, a longtime member of the House Intelligence Committee and a lead prosecutor during Trump's impeachment hearings. Pelosi's endorsement carries massive weight among Democrats and massive California fundraisers.
Lee doesn't seem scared. "Speaker Pelosi has a right to make her own decisions about who she endorses," Lee told the Chronicle. "I think what's important is that the voters will decide who can relate to their lives and...who's had the experience to really get the job done."