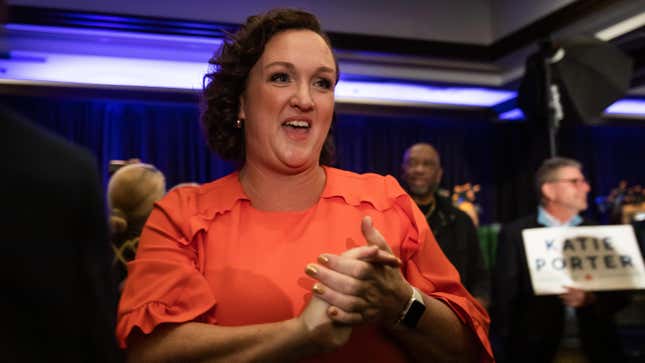 The 2024 California Senate race officially got interesting on Tuesday. Rep. Katie Porter (D-CA) announced her candidacy for Sen. Dianne Feinstein's seat that opens in 2024. Feinstein hasn't yet announced her retirement, but she will be 91 years old at the start of another six-year term. Elders should be revered; just maybe not in the U.S. Senate.

The Filibuster is Standing in the Way of Abortion Access
"I don't do Congress the way others often do," Porter said in a short video announcing her run. "I use whatever power I have to speak hard truths to the power that be."
Porter, a single mother and feisty progressive, flipped the California 45th Congressional District from red to blue in 2018—something that had never happened since the its boundaries were created in the 80s. Since joining Congress, the Harvard-trained, consumer-protection lawyer became a well-known and effective member of Congress, almost always with a white board or other visual aid in hand.
The visual aids were best used in her questioning of two different ghouls, I mean, Wells Fargo CEOS. In 2019, Porter's use of a white board to illustrate the stark differences between Tim Sloan's public statements and the company lawyer's arguments became national news, a skewering that eventually led to Sloan stepping down. Then, in March 2020, Porter went toe-to-toe with Charles Scharf, demanding the bank return more than $600 million of overcharges that Porter called "effectively stolen" from consumers.
The three-time congresswoman is also a domestic violence survivor. During her bruising first election, Porter felt forced to disclose the nasty parts of her 2013 divorce. "I have a wonderful track record. I've worked really hard to fight for consumers," Porter told Jezebel's own Laura Bassett back in 2018. "That's what I should be campaigning on. But I'm not going to let someone, anyone, say that because a woman's been a victim of domestic violence, because she stood up for her children's safety, she's disqualified. Who will run then?"
Porter isn't the only Democrat who is eyeing Feinstein's seat. A Republican has not held one of California's two Senate seats since 1992 when Feinstein was first elected, so I will not be wasting pixel on them—for now. Among the other (rumored) Democratic hopefuls are Reps. Barbara Lee and Adam Schiff. Former members of Bernie Sanders' presidential campaign want progressive Rep. Ro Khanna to enter the race, Politico reported.

Beyond active members of Congress, California just has a number of prominent Democrats like Los Angeles Mayor Karen Bass and Gov. Gavin Newsom. Between that and the state's open primary, it means two Democrats can end up running against each other. That's how Feinstein got her seat, by beating now-disgraced Los Angeles City Council member Kevin de León.
Porter's campaign is already trying to fight off her inevitable competitors. On Tuesday, the campaign released polling showing Porter beating Schiff by a point and, frankly, pummeling Lee and Khanna in a simulated primary. The same polling showed Porter beating Schiff by 11 points in the simulated general election.
I know Donald Trump had already announced his presidential campaign, but now that high-profile Senate campaigns are announcing, 2024 is getting very, very real.