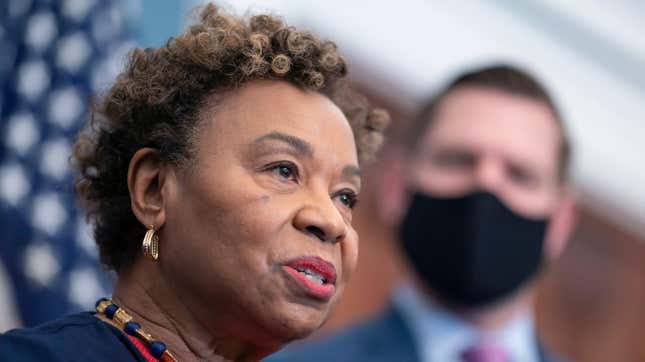 On Thursday, a group of pro-abortion Democrats in the House, led by Reps. Barbara Lee (D-Calif.) and Diana DeGette (D-Colo.), re-introduced The EACH Act, a bill that would reverse the Hyde Amendment, which bans federal dollars being used to pay for abortions. It's been a target of abortion advocates since it was first introduced in the 1970s.
The Filibuster is Standing in the Way of Abortion Access
I know everyone wants to skip reading about health insurance, but I promise you: The EACH Act is a big deal. The 2020 Census found that nearly 35 percent of Americans have government-sponsored health insurance. The Hyde Amendment means that people who are enrolled in Medicaid, Medicare or Children's Health Insurance Program (CHIP), are federal employees, use Indian Health Services, are Peace Corps volunteers, are in federal prisons, are poor in Washington, D.C., or use military or veteran insurance are enrolled in programs that do not cover abortion cost.
"It's discriminatory," Lee told Jezebel. "It's racist. I'm going to continue doing [introducing the bill] until we repeal the Hyde Amendment."
But Thursday's announcement of the EACH Act was a bit overshadowed by Lee's looming Senate race launch. Two other high-profile House Democrats have already thrown their names in the 2024 race for Sen. Dianne Feinstein's seat—which Feinstein won't say she's giving up. Reps. Katie Porter and Adam Schiff already announced their candidacies in the traditional way, with short biographical videos.
Lee, by comparison, is entering the race slowly. Earlier this month, she told members of the Congressional Black Caucus that she intends to run, but hasn't commented publicly yet, perhaps because she will face some of the same criticisms as Feinstein. Feinstein is 89; Lee would be 79 by the 2024 general election, and 85 by the end of the term. Shee wouldn't share any of her plans with Jezebel, saying only "Listen, I will discuss this when we officially launch... We're going to launch this in a way that's respectful to Sen. Feinstein and we'll get back to you when we do."
For now, Lee has her sights set on repealing the Hyde Amendment and keeping its coverage ban out of the annual appropriations bill. But watching the disastrous speaker race, which has thrown the House into extreme disarray, you might be skeptical about the efforts of someone trying to pass a bill that's already failed multiple times.
"I don't worry about that kind of challenge," Lee said. "This was not an overnight kind of effort. This has been in place since the '70s. I will keep going to re-introduce the EACH Act until the amendment gone."
The coalition outside of Congress has successfully lobbied to get more and more cosponsors of the EACH Act with subsequent introductions, but its passage is unlikely. Morgan Hopkins, president of abortion advocacy group All* Above All, was more realistic, saying that, while this is the first bill focused on expanding abortion access of this Congress, passing it will be a long-term fight. "We know this goes beyond one congress or one cycle," she told Jezebel. "We will keep working until we move the bill."

The bill also seeks to stop federal politicians from interfering in private insurance companies that choose to cover abortion costs in their policies. "We've got to be consistent overall. People who work and have those insurances are being discriminated against," Lee said. "We want to equalize this."
Lee added, "Everyone should have access to reproductive freedom and without public officials and judges forcing them to make decisions."
Securing any sort of equality, though, is unfortunately not high on the list of Republican priorities.