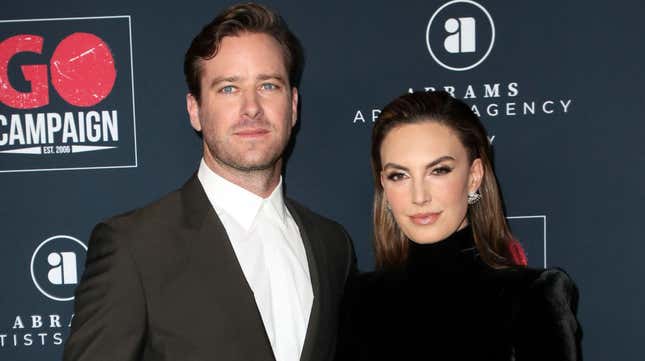 Last week, we got headlines about Armie Hammer sucking face with his dental hygienist ex- (or current?) girlfriend, while sporting troubling sandals in Portofino, Italy. This week, we're getting news that the accused sexual abuser and self-professed cannibal has finalized his divorce—and is shelling out less than the average New Yorker's monthly rent in child support for his two children.
Megan Rapinoe Uses Media Time to Discuss "Cruel" SCOTUS Ruling
On Thursday, Page Six reported that Hammer will pay just $1,500 a month to his ex-wife, Elizabeth Chambers, for costs related to raising their children. According to the finalized divorce judgement obtained by the tabloid, Hammer "does not have the income" to pay more at this time. However, the former couple's agreement will be resubstantiated every six months via submission of their current financial statements—a stipulation that empowers both Hammer and Chambers with the right to request a reassessment.
Earlier this year, Hammer revealed in a tell-all with Air Mail that he's not only "broke" but "massively in debt." "There was a point in all of this where I had to have a friend help me buy groceries," he said.
Hammer's financial dire straits have been a topic of speculation since last July when it was reported that he was hawking time shares in the Cayman Islands. Apparently, he'd been "cut off" by his millionaire oil tycoon father, Michael, amid the son's converging scandals. It's not known if Hammer inherited any of his father's estate following his passing in November 2022, but based on that meager child support ruling, I'd wager he didn't. (Or it's offshore.)
Regardless, this is a Hollywood split that appears pretty seamless. Hammer and Chambers agreed to waive spousal support, live in Los Angeles, and share joint legal and physical custody of their daughter, Harper, and son, Ford.
It would appear the only real losers here are their children: The former couple quite literally put in their divorce agreement that it's not in Harper and Ford's "best interests" to have sweets "consistently"—therefore, their parents won't give them candy. When mom, a former bakery owner, and dad, who literally wrote that he craves a woman's blood, just got divorced, is now really the time to lay off the treats? No tootsie rolls, just trauma!