From my mom to the New York Times, everyone's got an opinion about the FLOTUS' new bangs. Concerned citizens are either, "BANGS YAY!" or "BANGS NAY!" and the nation, as it stands, is very invested. Some guy behind me at Starbuck's yesterday was telling his friends how Michelle Obama's bangs were keeping him up at night. A small part of me hopes that Michelle Obama's bangs are creeping off her scalp at night and administering tickle torture to this man in San Francisco, but I know he was just bringing our obsession into perspective.
Jane Larkworthy, the beauty director at W Magazine, tweeted that she's received more emails about the first lady's bangs than about the Golden Globes. Emily McCombs, the executive editor at XOJane joked that all of her staffers that didn't turn in a Michelle Obama bangs story were fired. Kelly Ripa and Michael Stahan wore fake bangs on their show. Ana Marie Cox hated them and Nick Cannon loved them.
Even the President got in on the action:
"I love Michelle Obama," he said at a candlelight reception at the National Building Museum. "And to address the most significant event of this weekend: I love her bangs."
"She looks good, she always looks good," he added.
When Mrs. Obama took to Twitter to share her new look, she and Ellen DeGeneres playfully sparred:
G/O Media may get a commission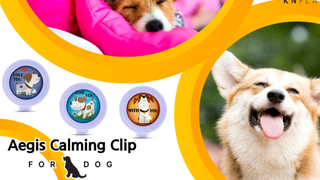 20% off
Aegis Calming Clip for Dogs
It appears to be no less than a national obsession, something on par with how we talk about her arms. Do you think the bang obsession is because we've all fetishized her arms to death, and the bangs are something actually new to freak out about? Or because the FLOTUS is our first style icon first lady since Jackie O.?
The optimist in me thinks, whether you love 'em or hate 'em, the fact that they're such big news is a sign that we have a Presidential couple that's captivated the world, and that's a good thing. They're charismatic, brilliant, and a great image for United States' politics and diplomacy, something that's long been the domain of old white people in gray uniforms and conservative skirt suits. The Obamas are engaging in a way we haven't experienced in awhile, and the FLOTUS is a fascinating woman with brains to match her beauty.
Another part of me thinks the obsession with Michelle Obama's looks is evidence of the constant critical white gaze that no other first lady had to endure. As Rahiel Tesfamariam writes in the Washington Post:
Since the beginning of the president's term, there's been an ever-present demand to "publicly dissect" her and examine why she dresses the way she dresses, says what she says, and behaves the way she does. The New Yorker's 2008 depiction of Barack Obama's "afro-wearing wife Michelle in camo clothes with an AK-47 and ammo-belt slung over her shoulder" drove this point home. Many believe that perceptions such as that one forced Michelle to "soften" her look in order to be perceived as less intimidating.
Maybe it's a bit of both? Or maybe we just really love talking about celebrities.
Being the first lady is a weird position. You're expected to always look good, to be viewed as a supportive wife, to be perceived as caring and involved in your own altruistic campaigns. Your job is to keep up appearances and be liked — and that's a crazy job. Michelle Obama left a career as a high-powered lawyer to put her husband's political aspirations first — it must be strange and seem a little silly to receive so much attention for her hairstyle. But that's her job now, and it's one she does exceptionally well, and we're incredibly lucky to have her — no matter what the hell her hair looks like.
Now, if Mrs. Obama sported a natural, can you imagine the coverage? Shit would get crazy.