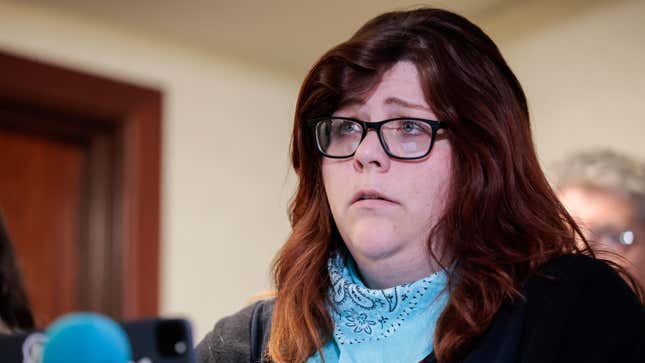 An anti-abortion activist made headlines last spring for storing five fetuses in the refrigerator of her Washington, D.C., apartment. She now faces felony charges for blockading an abortion clinic on a separate occasion, and her trial—where she hoped to be allowed to present lurid photos of said fetal remains to the jury—begins Wednesday. She and the other defendants also sought to argue that their clinic invasion was justified because they believe embryos and fetuses are people and that by blocking the entrance and chaining themselves to waiting room chairs, they were preventing murder.
Lauren Handy, 29, claims to have obtained the fetuses from a medical waste truck outside the same Washington, D.C., abortion clinic she blockaded more than a year earlier, though no one can prove that. Conveniently, she and her anti-abortion group tipped off police about the fetal remains the day after the government indicted her for storming the clinic, and Handy's supporters painted her as a hero whistleblower rather than an alleged felon facing prison time. This is the backdrop for what is sure to be a wild trial.
Handy and her co-defendants attempted to argue in the lead-up to the trial that it was OK for them to break the law because they think fetuses are people—something no federal court has ever agreed with. U.S. District Judge Colleen Kollar-Kotelly wrote in an order on Thursday that Handy cannot show the fetus photos as evidence, in part because she claims to have obtained the remains about 15 months after the clinic blockade for which she is on trial. "The Court will not permit Defendants to show photos of expired fetuses (or, in their telling, dead babies) and the containers in which the fetal remains were purportedly placed," she wrote. "Such photos are particularly incendiary and entirely distracting from the events at issue. The truth of the procedures related to the fetal remains are not, as Defendant concedes, relevant to this case."
Handy faces up to 11 years in federal prison and a fine of up to $350,000 for violating the Freedom of Access to Clinic Entrances Act, or FACE Act, when she and others blockaded a D.C. abortion clinic on October 22, 2020. Handy has already been tried and sentenced on state charges, including 30 days in jail for trespassing at a Virginia clinic in 2021 and 45 days in jail for invading a Michigan clinic in 2019. She even planned two more clinic invasions while on pretrial release in this case, prosecutors say.
According to the indictment and trial brief, Handy and her co-defendants conspired to block the clinic. The first step was calling to make an abortion appointment under the fake name "Hazel Jenkins." On the day of the appointment, an employee opened the door and Handy and eight others forced their way in, knocking over a nurse in the process. Once inside, prosecutors say five of them moved waiting room chairs to block access to the treatment area, then sat in the chairs and tied themselves together using ropes and chains. Two others guarded the employee entrance and blocked a patient from entering the treatment area that way. Another activist stood outside the building to livestream the blockade on Facebook. The blockade lasted more than two hours. Police had to use power tools to remove the locks and chains from some of the defendants and had to carry them out of the building.
In March 2022, the day after the Department of Justice announced its indictment of Handy for the clinic invasion, D.C. police responded to a tip about biohazard material in a residence. Police said they found five fetuses in Handy's apartment. The group Progressive Anti-Abortion Uprising (PAAU) later held a press conference where they said they were actually in possession of 115 sets of fetal remains, obtained from a medical waste truck outside the same clinic. (The medical waste provider in question said it doesn't transport fetal remains, and no one can prove where these fetuses came from.) Handy is PAAU's director of activism.
PAAU said they called in the tip themselves because they believed five of the fetuses to be of later gestational age and wanted an investigation into whether the clinic doctor violated a ban on a specific abortion procedure. D.C. police questioned Handy about the remains in March 2022, but haven't charged Handy with a crime for that incident.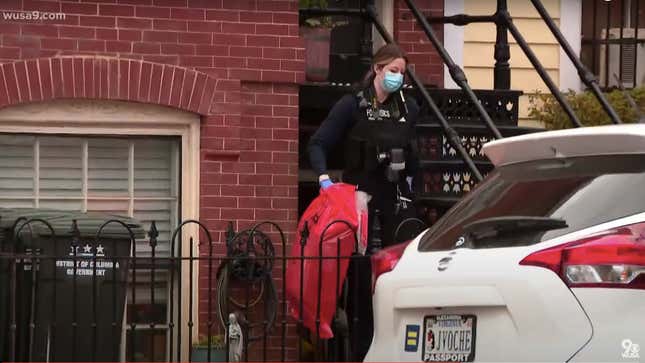 In an exhibit list filed on July 7, Handy's attorneys said they wanted to submit as evidence photos of five sets of fetal remains, identified as "Baby 1" and so on. In proposed jury instructions filed the same day, her attorneys said a jury could find Handy not guilty of otherwise criminal conduct if "she was faced with a choice of evils and chose the lesser evil; she acted to prevent imminent harm; she reasonably anticipated a direct causal relationship between her conduct and the harm to be averted; and she had no legal alternatives to violating the law." It's what's known as a necessity defense—in other words, Handy is arguing she had to break the law because she believed it was necessary to do so. Lawyers for co-defendant Heather Idoni submitted proposed jury instructions claiming that she was acting in defense of another person because Idoni believes "the unborn children of the mothers going into the clinic on the day in question were legal persons."

Invoking fetal personhood at trial is as much about capitalizing on media attention as it is about trying to get a judge's approval, said Mary Ziegler, a law professor at the University of California, Davis, and the author of Roe: The History of a National Obsession. "You would use the trial as a media opportunity to put on these arguments about personhood," Ziegler told Jezebel.
Ziegler said this case gave her deja vu: Blockading clinics and raising a necessity defense was the "go-to strategy" of the now-defunct clinic harassment group Operation Rescue. The group's founder, Randall Terry, spoke at the April 2022 press conference where we learned Handy had 115 fetuses. And Handy appeared to reference OR in a text message to a co-defendant on October 16, 2020, saying "I really think this Rescue is going to be huge—something that we've haven't seen for 25 years."
But when anti-abortion activists were last using the necessity defense in the 1980s and '90s, Roe v. Wade was still the law and, under Roe, fetuses were not people. "I think what they're doing in part is seeing if, in a post-Dobbs world, these arguments about personhood and necessity have any more traction than they did when Roe was the law," Ziegler said. But she doesn't think it will work at the Supreme Court—yet.
"As much as Sam Alito or Clarence Thomas may agree with you [that a fetus is a person], they're not in the business of diminishing their own power," she said. "They don't want you to decide, they want to decide themselves." Ziegler predicts that during the now-active campaign to push for fetal personhood, we will "see some of the more radical groups getting frustrated about the wait and breaking the law and raising personhood." She also notes that groups will focus on abortions later in pregnancy in support of a national ban after the first trimester, or even state criminal charges for abortion providers.
Ziegler doesn't suspect Handy's case will impact the law in the short term, but said it could affect the anti-abortion movement internally, and abortion access more generally: If Handy is sentenced to prison, she could become a "kind of radicalizing figure for people who are already radical." She said, "That's important in the sense of the radical wing of the movement being more inclined to take even more extreme steps because they're convinced that the justice system is illegitimate."
Handy also wants to submit as evidence a 2012 video from the group Live Action where an activist secretly recorded a conversation with the abortion provider at the D.C. clinic in question. Kollar-Kotelly wrote that Handy not only mischaracterizes statements from the video, but can't cite something so old at trial. "At no time in the video is there any indication that the doctor would, as Defendant characterizes it, either ensure a born-alive fetus's death or affirmatively perform a post-birth abortion," the judge wrote, continuing, "A video from 2012 predates the charged conduct by eight years, and any reliance on such stale evidence could be so misplaced as to render its probative value substantially outweighed by its prejudicial effect on the jury."
Kollar-Kotelly issued a separate order on Monday, less than 48 hours before jury selection was set to begin, saying the defendants can't argue necessity or defense of another. "It is unclear how Defendants' decision to travel to the District of Columbia, forcefully push through the Clinic's front door, and physically block the entrance to the Clinic's treatment area was beyond their control," she wrote. "A defendant may not don a vigilante's hood to insert themself into a situation of their own making and subsequently claim defense of a third person to justify their actions."
We'll follow the case as it unfolds, as it's sure to bring much more anti-abortion nonsense.