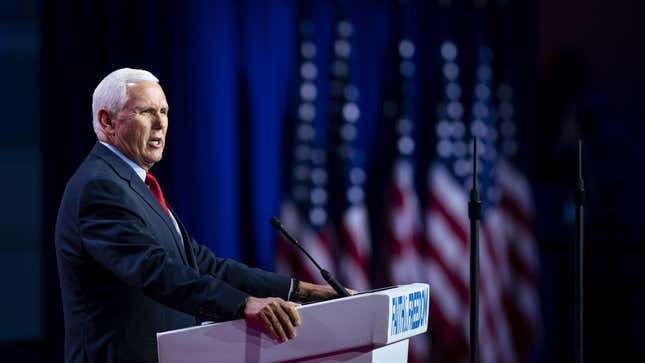 Mike Pence—a man who worries about being alone with women he's not married to—called for a national 15-week abortion ban on Friday, the day before the anniversary of the Supreme Court overturning Roe v. Wade. "Every Republican candidate for president should support a ban on abortion before 15 weeks as a minimum nationwide standard," Pence told an evangelical crowd at the Faith & Freedom Coalition's Road to Majority Conference.
Uterus Weekly: 15-Week Abortion Bans
And if they can't get it pummeled through nationally, Pence wants Republicans to support banning abortion at the state level, too. "We must support efforts in statehouses across the country to protect the unborn, support women facing crisis pregnancies with new and renewed resources," he said in his speech.

The former vice president also called for anti-abortion policies "without apology" and celebrated that Roe was put in "the ash heap of history where it belongs"—a common refrain of his. He added that Republicans "must not rest and we must not relent until we restore the sanctity of life to the center of American law in every state in this country." (If you can stomach it, Pence's entire speech starts at roughly 41:15.)
At the same conference, Ralph Reed, the founder and chair of the Faith & Freedom Coalition, said that GOP presidential candidates need a "testosterone shot" in order to fight harder for abortion bans. Pence spoke after Reed's speech, so I guess we'll never know if Reed considers Pence in need of a T-booster.
One year without the meager protection of Roe has been devastating: The number of people unable to obtain abortions from a provider is in the tens of thousands, and there has been story after story of patients forced to carry a fetus without a skull or a fetus without all the chambers in the heart. And those are just the people who can eventually receive care—there's now a whole other class of post-Dobbs babies out there, as it's unlikely all 25,000-plus people were able to self-manage their abortion. The hurt wrought by the end of Roe is far from over.

"We've not come to the end [of the anti-abortion movement]," Pence told the audience. "We've simply come to the end of the beginning."
What a horrifying thought to hear verbalized by a presidential candidate.