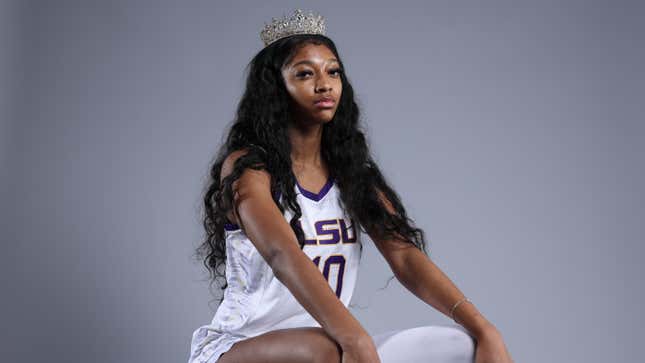 Angel Reese is having a week. On Sunday, she and the rest of the LSU women's basketball team secured the program's first NCAA championship. By Monday morning, she had become the center of national discourse about the sporting world's racialized respectability politics, as she pointed out that white women were allowed to taunt other players without consequence, while she was called a "thug" for doing so. And by Tuesday, Reese received a personal apology from First Lady Jill Biden for inviting both LSU and Iowa, who lost in Sunday's championship game, to the White House.
GOP Congressman Spent His Sunday Daring Biden to 'Come and Get' His Guns
But that apology isn't cutting it for Reese, who said Wednesday that she doesn't "accept the apology" from Biden. Better yet, she told the Paper Route Podcast she'd prefer her team skip the White House altogether and take a trip to the Obama household, instead.

Let's roll the tapes back for a moment. If you'll recall, in a video from CBS Mornings, Biden shared her excitement about attending the NCAA women's basketball showdown. "Congratulations to both teams! So I know we'll have the champions come to the White House, we always do. So, we hope LSU will come but, you know, I'm going to tell Joe I think Iowa should come, too, because they played such a good game," she remarked. "Winners and losers, that's sportsmanship!"
Reese quickly called out Biden's offer to bring LSU—a majority Black team—and Iowa—a majority white team—to the White House "A JOKE" on Twitter, and her teammate Alexis Morris tweeted: "Michelle OBAMA can we come celebrate our win at your house?" Only winners have ever been invited to celebrate their achievements at the Oval Office. Making an exception for a white team with a star white player in Caitlin Clark would be a pretty flagrant sign of disrespect towards the real champions: LSU.

Blowback for Biden's comment was deservedly swift, and Biden's press secretary Vanessa Valdivia attempted to clarify the first lady's comments on Tuesday, saying they "were intended to applaud the historic game and all women athletes. She looks forward to celebrating the LSU Tigers on their championship win at the White House."

Now, Reese is standing firm in her position that the first lady's ignorance—and yet another instance of thinly veiled discrimination putting a damper on the team's victory—can't be forgiven so easily. "I'm not gonna lie to you, I don't accept the apology because of…you said what you said. I said what I said," Reese told podcast hosts, Brandon Marshall and Ashley Nicole Moss. "And like, you can't go back on certain things that you say."
"I mean, you felt like they should've came because of sportsmanship, right?" Reese continued. "They can have that spotlight. We'll go to the Obamas. We'll see Michelle. We'll see Barack."

On Wednesday, LSU's athletics department told CNN they would "certainly accept an invitation" to the White House, but the jury's still out on whether Reese and her teammates will actually go.

"If we were to lose, we would not be getting invited to the White House," Reese added. "I remember she made a comment about both teams should be invited because of sportsmanship. And I'm like, 'Are you saying that because of what I did?' Stuff like that, it bothers me because you are a woman at the end of the day. White, Black, it doesn't matter, you're a woman, you're supposed to be standing behind us before anything."

Even Clark agreed that, as the runners-up, Iowa should not receive an invitation to celebrate at the White House.

"I don't think runner-ups usually go to the White House. I think LSU should enjoy that moment for them and congratulations, obviously, they deserve to go there. Maybe I can go to the White House on different terms, though," Clark said. "But that's for LSU. That's a pretty cool moment and they should enjoy every single second of being a champion."

Iowa coach Lisa Bluder also turned down the first lady's nonchalant invite, tweeting, "I gratefully acknowledge the First Lady's sentiments, but a day at the White House should belong solely to the champion, LSU and Coach Mulkey. We would welcome the First Lady and President to come to Iowa's 'House' – Carver Hawkeye Arena – any time!"

Welp, Jill, looks like you really stepped in it this time. A proper apology to Reese and LSU might include an acknowledgment of your biases, but for now, here's to hoping the Obamas are planning a purple-and-gold-themed rager for the Lady Tigers as we speak.