The Real Housewives franchise purports to feature well-off women. But according to our research, their appearances of wealth can be quite deceiving. And their money problems extend even further than you might think.
In addition to Teresa and Danielle's publicly discussed financial woes, we've also discovered that Jacqueline's husband recently filed for bankruptcy, Dina's husband can't pay his credit card bills, and Danielle owes alotta money to the IRS.
A rundown of the ladies' — or their husbands' — various messes:
Jacqueline Laurita

G/O Media may get a commission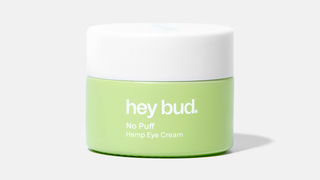 15% off
Hey Bud - No Puff Hemp Eye Cream
Jacqueline is a stay-at-home mom and the only one of the NJ Housewives to not personally be pursuing any money-making endeavors at this time. Compared to the more-public troubles of other women on the show, Jacqueline's financial situation appeared stable. However, recent bankruptcy documents that this may not be the case. According to her bio on Bravo, her husband Chris (the brother of Caroline and Dina Manzo) "owns a wholesale apparel business." But his company Signature Apparel Group, LLC — which included troubled brands like Rocawear and Eve's Fetish — had "an involuntary petition for liquidation under Chapter 7 filed against [it] in the U.S. Bankruptcy Court." Translation: Chris's outfit was unable to pay its loans, and creditors forced the bankruptcy filing. Essentially, such a filing means that the a trustee is appointed to the business in order to sell off its assets and pay its debts. Later that month, rapper/actress Eve announced that her Fetish line was closing due to "legal reasons." She's probably referring to this. Even worse, Signature Apparel Group has since refiled for Chapter 11 bankruptcy in November 2009.
Chris — who has been with Jacqueline for over 14 years — has personal money issues that go back as far as 1988, when the United Jersey bank successfully won a judgment against him for over $18,000. Meanwhile American Express successfully won a judgment against him for almost $3000 in 1990.
Danielle Staub

Danielle has made no secret about her financial troubles on the show, claiming that she can't afford to pay for her children's school supplies and is unable to keep up with minor repairs on her 10,500 square foot home in Wayne, NJ. She's also been shown arguing over the phone with her ex-husband about not receiving her divorce settlement. Nevertheless, she is frequently seen carrying designer bags, wearing $500 leggings from Neiman Marcus, getting Botox and lip injections, and having (her fourth) breast augmentation.
In the first season of RHONJ, Danielle bragged about being the first woman in New Jersey to receive a Centurion Card (the black American Express Card), even getting hers before Madonna. But much like many of Danielle's declarative statements about her own life (like insisting that she was merely a go-go dancer and not a drug-addicted paid escort, when court records have proven the latter to be true) her claims about her Centurion Card are highly suspect. For one thing, American Express — which was first made available to a small selection of clients starting in 1999 on an invitation-only basis — has very strict requirements for such cardholders: a nearly blemish-free credit history; an annual spending of $250,000 on current American Express Platinum or Gold cards; a membership fee of $5,000; an annual fee of $2,500; and a "major" net worth (undisclosed by American Express).
It doesn't seem likely that the single mother who publicly whines about her money problems would meet such requirements. Especially not given the following court documents we've reviewed:
A federal tax lien was placed against Danielle in March 2006 for $111,161 by the IRS.
Later that year, in December, a civil suit was filed against Danielle by attorney Elliot Gourvitz, for an undisclosed amount, most likely stemming from nonpayment of legal bills.
In February 2007, a different federal tax lien was placed against Danielle—this time filed in a new county—and her second husband, Thomas Staub for $130,577 by the IRS.
It is not indicated on these documents whether these judgments have been paid. Although she has written a book, The Naked Truth (which only has an Amazon sales ranking of 18,860, for whatever that's worth), and receives appearance fees for events (although probably much less than other reality stars in higher demand, like the youngsters from Jersey Shore), she only makes an estimated $3000 per month filming her reality show. Danielle has no other (publicly stated) means of income. Still, the property taxes alone on her seven bedroom, seven bathroom home — once featured in the New York Times — are a whopping $35,348 a year. The house has been placed on the market, but recently the price has been reduced from $1,495,000 to $1,095,000.
On the June 21 episode of Watch What Happens, Danielle was asked how she could afford another breast augmentation when she repeatedly cries poor mouth on her show. (At a recent charity benefit for a cancer-stricken baby, Danielle — who claimed that she was invited to the event to help raise funds — only donated $10.) Clearly uncomfortable and defensive, she became snippy, answering that she has "jobs now" and that "money is coming in."
One assumption is that Danielle has released her sex tape herself in hope of turning a profit, especially considering that she seems competitive about its sales. Also, from a legal standpoint, Hustler, which is distributing the tape, would not be allowed to do so without the written consent of at least one of the parties appearing on-screen — meaning that her story about how the tape was stolen by a third party doesn't hold water, particularly because Danielle has publicly acknowledged that she's still friends with the mystery man, whose identity she will not reveal. Perhaps there's maybe a light at the end of Danielle's tunnel: She could stand to net up to $1 million for the tape.
Caroline Manzo

For being portrayed on the Housewives as the wise, sturdy matriarch in her family, Caroline has had a bit of an unsteady past in the civil courts in New Jersey. Throughout the '90s and into 2000 there were several judgments against her for nonpayment of hospital and doctors' bills, as well another judgment involving "Church Chronicle Publishing." Her bio on Bravo lists her as "the owner of two successful businesses, Opus Properties, a real estate firm and 4 My Mom, a children's accessories line." However, the 4 My Mom website is not operational, and the Twitter account for the company hasn't been updated since January of this year. Not much information can be found regarding Opus Properties (perhaps because there is a larger company with the same name based in the Midwest), but company profile on Manta estimates Caroline's company's employees number between 1 - 4.
The bulk of the Manzo family's income stems from their event and catering hall The Brownstone. But Caroline's husband Albert has been involved in over 30 judgments and liens (one brought on by a family member) since the early '90s up until two years ago . And while it can be expected that a business that deals with picky brides and numerous vendors to be caught up in several financial disputes, there was also a state tax lien in 2000 for $10,546.17, as well as a judgment in favor of the Federal Mortgage Association for $148,000, plus a few judgments in favor of the First Bank of USA and North Jersey Federal Credit for a combined total of over $10,000. It would seem that these specific issues, however, have been resolved.
Dina Manzo

Of all the housewives, Dina's financial history seems to have the cleanest slate. However, her husband's is a different story. In 2006, she married Tommy (the brother of Caroline's husband) in a lavish wedding that cost $1.5 million, and was featured on the now defunct VH1 show My Big Fat Fabulous Wedding. One year later, in October 2007, Thomas was sued by American Express for $12,599, as well as the Bank of America for an undisclosed amount.
Additionally, rumors have plagued the couple since Dina's debut on RHONJ, the buzz being that their marriage is in trouble and that the couple does not reside together — which would explainwhy he has never appeared on the show. Yet more rumors suggest that the marriage was an arranged one, in order to give Dina financial security and to protect the secrecy of Tommy's homosexuality. (In this casting video for the show, they tell the charming story of how Dina had learned that Tommy was unfaithful to her for the entire first year of their courtship.) To be fair, the gay rumor was most likely started by Danielle Staub out of malice, as the source's only other "exclusive" information was an interview with Staub.
Teresa Giudice

Teresa Giudice's financial woes are the most public of all the Housewives, as it was revealed that she and her husband Joe filed for Chapter 7 bankruptcy in October 2009 because they owe a total of $11 million to various creditors — and they earn $79,000 a year. Their debts include:
$104,000 on at least eight credit cards
$85,000 for home repairs
$91,000 for materials used to build their new home
$12,000 in fertility treatments
$2.6 million for eight mortgages on three homes (two of which have been handed back to lenders)
$5.8 million for various "business investments"
$1,280 for defaulting on a car payment
$2,300 phone bill
Last week, People ran an article that all but accused Joe (real name Giuseppe) of being a slumlord; court documents that go back well over 10 years would indicate that to be true, as the Giudices have been sued by numerous tenants and a heating company. Here is a small sampling of the nearly 20 civil cases on record:
Click to enlarge.


Suze Orman would shit a brick if she saw how Teresa's name is attached to many of what seems like Joe's shady business dealings.
Teresa has spoken publicly about her debt, saying:
While this is a personal matter, I realize that certain aspects of my private life will always be subject to scrutiny and distortion, What is true is that due to the economy, most of my husband's real estate ventures failed despite his hard work and effort. As a result, we looked to the Bankruptcy Court for a 'fresh start.'
And although the couple had to undergo credit counseling and were awarded a temporary stay on certain payments, Teresa can still be seen on RHONJ throwing down major cash on shopping trips and her daughter's birthday party. But Teresa is using her bankruptcy fame to make some extra cash: She'll be appearing in this week's InTouch magazine to talk about her body and workout routine, and she's receiving financial compensation for the interview.
Elvira Grau

Despite her best efforts to tip off gossip blogs with a barrage of press releases about how she was chosen to replace Dina Manzo on RHONJ (yes, Elvira, we got the emails…all of them), as of right now no official announcement has been that she will indeed join the cast on the show full-time. However, she did appear in the June 21 episode of RHONJ to plan Teresa Giudice's housewarming party, during which she continually berated Teresa for not having live-in help or a pool. Interesting, given that on June 23 it was reported that Grau too is in financial peril. According to court records, she and her husband have had numerous state tax liens recently filed against them on several different properties, totaling nearly $300,000.
Senior VP of Production and Programming (and Watch What Happens host) Andy Cohen recently tweeted about Elvira's future on the show, saying:


But maybe if he watches this YouTube gem of Elvira, he'll reconsider.




More bankrupt 'Housewives' [NY Post]
NJ Housewife Teresa Giudice: Bankruptcy Is a 'Fresh Start' [People]
Bankrupt 'Housewife' Teresa Giudice Speaks Out [PopEater]
Hey, big spender [NY Post]
Real Housewife Teresa's Out of Money and Owes Millions?! [E!]
Danielle Staub video set for June 14 release [Money Blog]
Jersey Girls, Nesting [NY Times]
The Real Cost of Real Housewives [Daily Beast]
Signature Apparel Group, LLC [Business Week]
Eve Calls It Quits On Her "Fetish" And Drops Her Label! [Hello Beautiful]
The Real Housewives of NJ: Who is Tommy Manzo? [Reality Tea]