Has Bravo pulled one over on us, passing these women off as Atlanta's "elite"? After the jump delve into the financial and legal messes of The Real Housewives of Atlanta.
Of all the dirt that's surfaced on the women of The Real Housewives of Atlanta, NeNe's has been most public. It's been suggested that NeNe isn't as well-off as she portrayed herself to be: she didn't own her home, and instead rented. She and her husband Gregg Leakes were evicted from that rental in September, and owe $6,240 in back rent. Also, she might not be legally married to Gregg, after she cryptically told one newspaper, "You don't know my relationship with Greg so be careful what you report!"
Also, Gregg owes over $100,000 in back taxes. He was described on the show as being a "real estate investor," but it turns out that he ran a rental management company, Advantage Move LLC, that rented homes in the Atlanta area for other people. Recently, Fox News ran an investigative report in which they interviewed a property owner who employed Gregg and sued him for breech of contract after he rented her home to personal friends of his who had bad credit and didn't pay their rent. They also caused significant damage to her home and even left "human waste" on the floor. No one knows where NeNe and Gregg are living right now.
G/O Media may get a commission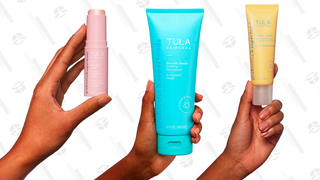 Some info was dug up from Sheree Whitfield's past. In 1989, when she was 19, she was arrested twice for theft in her native Ohio. More shocking, though, is that Sheree gave birth to a daughter, Tierra, when she was 15. While Sheree acknowledges her two younger children she had with ex-husband Bob Whitfield as her own on the show, she publicly refers to 23-year-old Tierra as a close friend. Sheree was interviewed for Essence a few months ago, and while though the article pointed out that Sheree has three children - named Tierra, Kairo and Kaleigh - the captions under the photos of the family list only the two younger ones as her kids, and Tierra as a friend.






Sheree's financial standing has also been called into question. She didn't get that "seven figures" lump sum divorce settlement she was looking for, and has appealed the ruling. She's also put her home - which reportedly is not in her name - on the market for $2.8 million and removed her children from private school and enrolled them in public school his year.
Perhaps most embarrassingly: Sheree bounced a check for $346.61.
Lisa Wu-Hartwell seemed to be the most sensible and collected of the Housewives. However, Lisa, who has several aliases - Sharon Millette Wu, Sharon Lisa Sweat, and Lisa Wu-Sweat - filed for bankruptcy in 2007 after she was sued by her ex-husband, R&B singer Keith Sweat, for repayment on a $150,000 loan he gave her to make a movie called Blackball. Keith now has custody of their two children and wouldn't allow them to appear on the show.
Since the show stopped airing, Lisa has reportedly gotten into a feud over some smack Kim was talking about her while she and Sheree were extras on the set of The Joneses (a social commentary on American consumerism starring Demi Moore and David Duchovny).






Word of the trash-talk got back to Lisa, who called Kim up and "made threats." Kim then hired a slimeball lawyer and got TMZ on the horn to milk some publicity out of it. You can watch their mini-press conference here, and hear the "threatening" voicemail Lisa left for Kim.
As for Kim, like the other housewives mentioned, she may be in a bit of a financial pickle as well. Her townhouse is reportedly up for sale, although, according to property records, Zolciak paid $486,000 for her home in January 2006, and it was assessed at only $371,100 the following year. And in this market, you know that number has plummeted.
The identity of her boyfriend "Big Papa" is almost accepted as fact now, after she confirmed on the reunion special that some blogs had correctly guessed who he is. However the two have broken up and she has reportedly begun dating a very wealthy cosmetic surgeon named Dr. Stefan Lemperle, who helped invent some wrinkle filler that was never given FDA approval, but that he injected into his patients' faces anyway, causing adverse reactions, a lawsuit, legal troubles, and the loss of his job as CEO of Artes Medical.
As for her working relationship with superstar producer Dallas Austin, he posted this on his MySpace:



Remember how Kim said she was 29 and no one believed her? Well it's absolutely true! (She's since turned 30.) However, the truth was revealed in a sorta embarrassing way when this info was dug up by the NY Post:
As a teenager in Windsor Locks, Conn., she had a high-profile affair with a police sergeant, John MacDougald. According to the Hartford Courant, Zolciak was "16 or 17" when the romance began and allegedly a witness in a criminal investigation at the time. McDougald, a 25-year veteran of the police department, copped to the affair-but insisted that the relationship started after the case was closed. The scandal helped touch off an internal investigation in the Windsor Locks police department-where allegations of secret tapings, sexual-assault charges and cover-ups flew.

The upshot of unleashing these skeletons in her closet? The Hartford Courant's reporting on the scandal, which unfolded in the summer of 1997, identified Zolciak's age as 19.
Then there's the matter of Housewife DeShawn Snow. Apparently, she's the only one on the show who really has money, which means she's legit - and kinda boring.