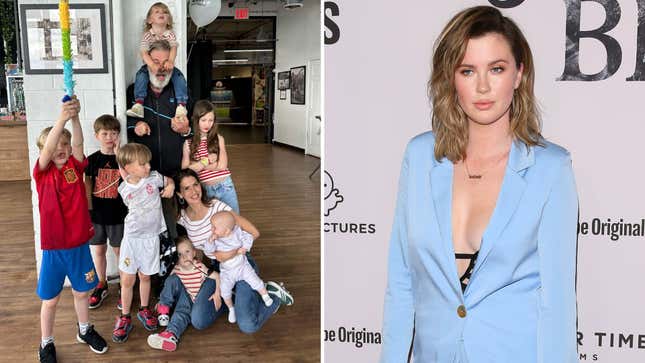 Alec Baldwin loves to procreate, so much so that he's forgotten exactly how many times he's done it.
Jennifer Hudson Achieves EGOT Status, is True American Idol
On Thursday night, the actor posted a carousel of images that got him through "some tough times." The tough times in question would probably be that instance in which cinematographer Halyna Hutchins died on the set of the Baldwin-led film Rust in 2021; Baldwin was charged with involuntary manslaughter, but the charges were recenetly dropped.

Luckily for Baldwin, he has "seven reasons to carry on" (fortunately, no, this is not the origin story of a new depressing Netflix series called Seven Reasons Why). "I'm not gonna lie, without my family, I don't know what my life would be," Baldwin wrote. The carousel included seven photos of the seven children he shares with noted white woman from Boston, Hilaria (pronunciation "ee-lar-ee-uh") Baldwin. Most of the photos are silly candids, except for one, which looks like a cross between a child actor headshot and a blue steel audition.
I am going to list the names and ages of the gaggle of children for you, so that we can all mentally grasp just how many little ones are running around their house: Carmen, 9, Rafael, 7, Leonardo, 6, Romeo, 4, Eduardo, 2, Lucia, 2, and Ilaria, 7 months. Ilaria is not to be confused with her mother, Hilaria.

This would all be a perfectly fine and nice tribute to one's kids, if only Baldwin hadn't forgotten that he has eight reasons to carry on. Because he has eight kids. And he forgot the most famous one: his 27-year-old daughter Ireland Baldwin, whom he shares with his ex-wife, Kim Basinger. As old men on the internet are wont to do (he's 65), Alec posted an uncomfortably close-up shot of Ireland that cuts off her chin. He then added a very heartfelt note to make up for the omission in his initial post: "This one, the first one, is about to make me a grandfather. Oy."
God, it must feel so nice to be celebrated only for being "the first one" and for your reproductive abilities (Ireland is pregnant with her first child, whom she shares with boyfriend RAC). Alec's one priority later in life appears to be repopulating the human race, one Baldwin child at a time. With a task like that, how could you forget to honor the only child that is currently capable of carrying on your legacy of reproduction?!

Regardless, I'm sure Ireland was thrilled to be left out of the Brady bunch Instagram portrait. When opening up about her pregnancy struggles in January, she noted that, "It's hard not being really close to family to begin with because they live far or are idiots that I want nothing to do with."

To quote the most middling of all the Baldwins (Alec): "Oy."

---