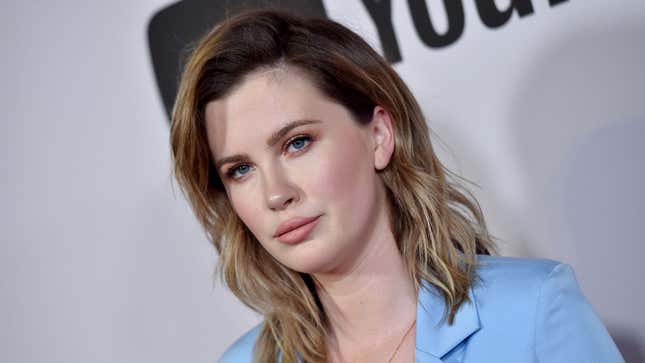 Pregnancy can really suck. And on Wednesday, Ireland Baldwin got vulnerable about the toll her own pregnancy is taking on both her body and mind.
The daughter of Alec Baldwin and Kim Basinger shared a five-part text-based post on Instagram detailing how her pregnancy has affected everything from her friendships to her mental health to her motivation. "Pregnancy is hard. It takes so much out of you," she wrote. "I wasn't ready for that."
On New Year's Day, Baldwin posted an ultrasound on Instagram to announce that she and her boyfriend, André Allen Anjos (the musician RAC,) are expecting. But in her latest post, Baldwin talks about feeling lonely and isolated, and how her brain feels like it's at war with itself.
I underestimated just how hard pregnancy would be on my mind and body. Being someone who deals with extreme health anxiety on a daily basis, pregnancy turned things into a high gear. I've struggled to adapt to these changes. Bodily sensations. Pains and aches. Organs going to shit randomly. I know everyone has an entirely different experience and mine is easy compared to most, but fuck it's a struggle.
She continued:

I feel like my brain and thoughts are going to war every single day. Mental warfare [...] I'm exhausted. I'm unmotivated. I feel like life is passing by and my career hasn't even begun. [...] It's hard feeling alone. I have my boyfriend who without him, I think I would have lost my mind.
Amidst the vulnerability, the 27-year-old did take a moment to throw some shade at her family. Despite the support she's received from her boyfriend, Baldwin explained that not having familial support makes things harder: "It's hard not being really close to family to begin with because they live far or are idiots that I want nothing to do with." Hm. I wonder which idiot that could be?
In spite of her loneliness, Baldwin was inspired to share her personal experiences from the "community" she's found in "unfamiliar corners of social media," where others were being "fucking honest about how hard this journey can be." She added that she hoped "someone will read this and feel less alone."
Baldwin ends on a note of ambivalence, encouraging others to lean into the less glamorous parts of their pregnancy experiences: "All of this is still worth it but it's ok to admit how hard and scary it all can be," she wrote. "You are not alone."