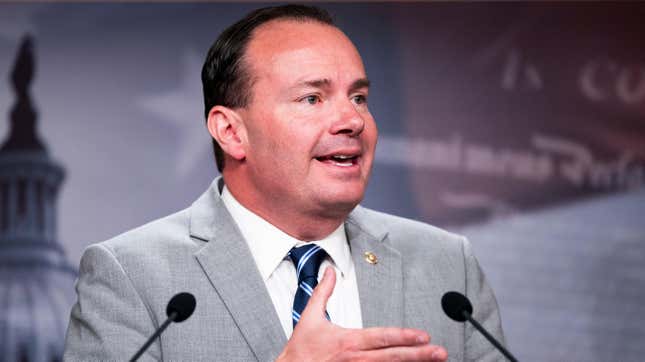 Last month, Sen. Tommy Tuberville (R-Ala.) began holding up promotions in the U.S. military because of a new Defense Department policy that allows service members and dependents to take three weeks of administrative leave for abortion-related travel. Now, he's recruited a similarly fervent ally in the Senate: Mike Lee (R-Utah).

UterUs Weekly: February 11, 2022
In a series of nine (9) tweets published Monday night, Lee pleaded for his anti-abortion colleagues to join their crusade of not supporting the troops. "What message does this Pentagon policy send to female service members who are or may become pregnant? If the Pentagon really, really didn't want women in the military to have babies, wouldn't it adopt something that looks a lot like this policy?" Lee wrote in part. "[Tuberville] and I are actively opposing this. We need every pro-life senator supporting this effort in any way they can."
Abortion is no longer accessible in dozens of states—particularly ones that happen to house massive military installations. The Department of Defense is covering practical support costs, like travel and transportation, because military members and their families do not get to choose where they live. If an enlisted member (and their dependents) work at Fort Campbell on the Kentucky/Tennessee border, they are facing two states that are hostile to abortion patients. Traveling, if only to get abortion pills, becomes necessary. (Other similar situations include the people who live and work at the host of military bases in Texas and Georgia.) Since the federal government is mandating their state of residence, it's reasonable to ask them to cover the costs of getting this healthcare.
At a Senate Armed Services Committee last month, Tuberville said the policy is allowing the Pentagon to legislate. "I want our military to be the strongest and the deadliest it has ever been but also want the administration to follow the law," the former college football coach said. "As long as I have a voice in this body, Congress will write the laws, not the secretary of defense, not the joint chiefs."
The military is not paying for the abortions, which even Lee acknowledged in his first tweet. "Federal law prohibits the Pentagon from using federal funds or facilities to perform abortions. [Secretary of Defense Lloyd Austin] is trying to circumvent that law by providing travel expenses and three weeks of paid leave to military women seeking abortions," the senator wrote.
An employer, which the government and military are, are allowed to change their healthcare plan and PTO offerings. People in the military—like all people—need abortions for a variety of reasons. The national policy only came about because the Republican Party's crusade to overturn Roe v. Wade made abortion all but inaccessible in half of the country.
Lee and Tuberville are making themselves clear: They're so opposed to bodily autonomy that they're willing to punish the military over it.