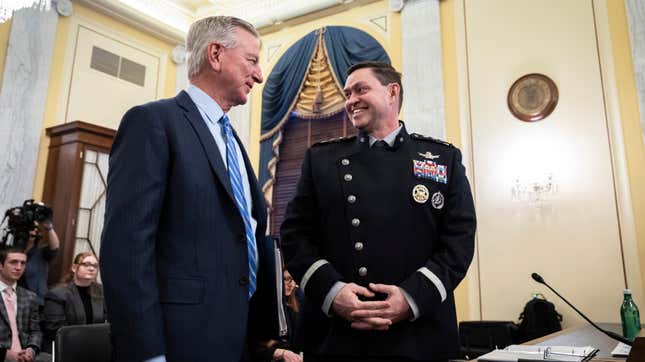 Republican Sen. Tommy Tuberville (Ala.) is holding up military appointments because he's mad about abortion. Yes, the former Auburn football coach-turned-legislator isn't supporting the troops because he's mad that the Pentagon is providing support for military members who need abortions.
The Fight For Abortion Rights has Reached New Heights
In particular, he's mad a new policy that took effect on March 18 and gives service members and dependents three weeks of administrative leave for abortion-related travel. This, of course, is a direct result of Roe v. Wade being overturned—something Tuberville's party fought decades to achieve—and abortion becoming inaccessible in dozens of states.
So, naturally, he is stalling the promotion of 160 generals and flag officers and two civilian nominations, according to Politico. Once you reach a certain rank in the military, each subsequent promotion requires Senate approval. Normally this is a very smooth, very run-of-the-mill process, but Tuberville is changing that.
"Over the past 40 years, I don't recall one military person ever complaining that we weren't performing enough abortions," Tuberville said Tuesday at a Senate Armed Services Committee hearing related to the Pentagon's massive annual budget. (No one in the military is saying that now, either; they're just giving service-members some extra PTO to navigate our country's patchwork abortion landscape.)
The Hyde Amendment bans federal funds from being used to pay for abortions, but the Department of Defense is covering travel and transportation costs—an entirely reasonable policy when you consider that some of the largest military installations are in Texas, Georgia, and the border of Kentucky and Tennessee, where there's a stark lack of abortion access. On top of that, military personnel and their families do not choose where they live, so even if they wanted to live in a state with friendly reproductive laws, it's very likely that they cannot.

"I want our military to be the strongest and the deadliest it has ever been but also want the administration to follow the law," Tuberville said. "As long as I have a voice in this body, Congress will write the laws, not the secretary of defense, not the joint chiefs."

Again, there are no laws being changed here. The military is not paying for abortions; it's not allowed to.
"They're not making the policy," Sen. Susan Collins (R-Maine) said on NBC News of the 160 service-members whose promotions are being held up. "And at a time when we're having recruitment and retention problems in our military, I worry about the signal that that would send, but it's primarily—they're not the policymakers."
In other words, only political nominees should be used for scoring performative points in Collins' world.
But despite disagreement from members of his own party, it doesn't look like Tuberville will stop his inane battle anytime soon. Politico reported that Defense Secretary Lloyd Austin actually appealed to Tuberville in private last week before the Senate hearing. It didn't seem to have helped.