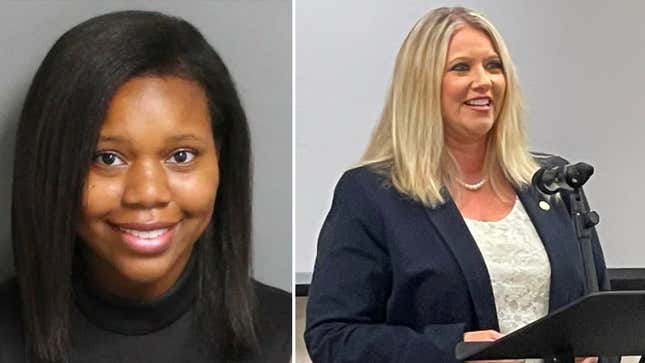 Alabama state Sen. April Weaver (R) on Monday announced her plan to pre-file a bill for the 2024 legislative session that would make faking an abduction a felony. Under the proposed law, which follows the shocking case of Carlee Russell, violations would be punishable with a lengthy prison sentence and mandatory restitution requirements to pay for the full cost of resources used by law enforcement agencies.

Politician Cites the Constitution to Eviscerate Gun Supporters
The proposed bill comes after Russell, a 25-year-old nursing student in Hoover, Alabama, went missing for 49 hours after calling police to report a small child on the side of a highway on July 13. When Russell returned, she claimed she'd been kidnapped, but police said they couldn't verify her story and found eyebrow-raising searches in Russell's search history. By last Monday, Russell admitted through her attorney that her kidnapping claims had been a hoax, and on Friday, police pinned her with two criminal charges for false reporting to law enforcement and falsely reporting an incident—each punishable with up to one year in jail.
"Individuals who concoct and carry out sham kidnappings and lead our law enforcement officers on wild goose chases must be given severe penalties for their deceptive action," Weaver said in a statement about her proposed bill on Monday, in which she refers to Russell's actions as a "hoax." (Weaver, who was first elected to the legislature in 2010, briefly departed to join the Trump administration as a regional director of the Health and Human Services Department in early 2020.)
But experts have expressed concern that such legislation—especially Weaver's bill, which threatens hypothetical false reporters with substantial prison time—could have dire unintended consequences. For starters, while Russell's story is truly gutting, jail and criminalization very clearly aren't the solution to what seems to be a mental health crisis. And as one criminal defense attorney told Yahoo News, Weaver's bill comes across as a "knee-jerk reaction" to a kind of case that "only happens every five to 10 years."
Weaver's bill comes after Hoover Police Chief Nick Derzis expressed regret that he couldn't bring felony charges against Russell because "existing laws only allow the two [misdemeanor] charges that were filed." And while Weaver is a Republican, legislation to punish false reporting of kidnapping has some bipartisan support in the Alabama legislature: Local outlet WBRC reports that two other lawmakers, a Democrat and Republican, also say they're developing legislation to increase the penalties for lying about an abduction.
"It's the most classic story of the political economy of criminal law," another attorney told the outlet. "Politicians feeling the need to respond to a high-profile instance and typically making bad law as a result being overly punitive, overly reactive."

There's also the bleak reality that real victims—especially victims of color—are inevitably vulnerable to being perceived as liars and would face prison time for reporting their abuse. False reports of abuse are exceedingly rare, and abuse is extremely difficult to prove in a criminal legal system that's designed to be skeptical of victims. Many victims may struggle with trauma that makes presenting evidence even more difficult, but the impulse to punish "liars" persists nonetheless: Just earlier this year, Tennessee lawmakers proposed adding a rape exception to the abortion ban—with the caveat that those who "lied" about being raped would face three years in prison.
Weaver's proposed legislation, which responds to an extremely rare scenario, is almost certain to punish and dissuade victims from coming forward. But predictably enough, it seems the classic impulse to pass sweeping legislation in response to a viral news event outweighs this concern.