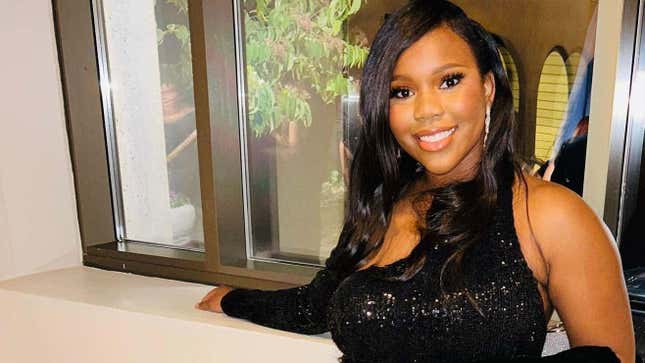 UPDATE, 5:38pm: Carlee Russell, the Alabama woman whose 49 missing hours drew national attention, admitted through an attorney on Monday afternoon that her disappearance was a hoax.
Hoover Police Chief Nicholas Derzis read the following statement sent to him on behalf of Russell by her attorney, Emory Anthony, on Monday to the media:
"Dear Chief Derzis, my client has given me permission to make the following statement on her behalf: There was no kidnapping on July 13, 2023. My client did not see a baby on the side of the road. My client did not leave the Hoover area when she was identified as a missing person. My client did not have any help in this incident, but this was a single act done by herself. My client was not with anyone or at any hotel during the time she was missing. My client apologizes for her actions to the community, the volunteers who were searching for her, to the Hoover Police Department and other agencies, as well as to her friends and family. We ask for your prayers for Carlee as she addresses her issues and intends to move forward, understanding that she made a mistake in this matter. Carlee again asks for your forgiveness and prayers."
Previously:
Carlee Russell, the Alabama woman whose 49 missing hours drew national attention, has at least one ally as accusations of a potential hoax continue: her boyfriend, Thomar Latrell Simmons, who's asking the public to consider her mental health. "The only thing I can say is, I want everyone to stop bullying her. I know what it seems like what she did. Just stop bullying on social media," he told the New York Post on Saturday.
Russell's boyfriend people online should give some grace to the 25-year-old nursing student. "Think about her mental health. She doesn't deserve that. She doesn't. Nobody deserves to be cyber-bullied," he told the Post. Last week, following Russell's return, he deleted all public traces of her from his social media.
Russell was missing for approximately 49 hours last week after she called 911 to report a toddler walking along the interstate outside of Birmingham, Alabama. She called a relative to tell them about the diaper-clad toddler and pulled over. By the time police arrived—only minutes later—Russell was gone. Her wig, purse and phone were found either in or near her car. Approximately two days later, Russell showed up at her family's doorstep.
Since her safe return, Russell has given one interview to police, where she said a man with "orange hair with a big bald spot" took her from alongside the interstate. Eventually she was taken to a house, stripped nude and photographed. At one point she was put into a vehicle and was able to escape to her family's home. She's given no other statements to media or police at this time.
However, as police searched for Russell, investigators found troubling signs. Before she called 911, Russell was seen on her workplace security tapes taking toilet paper and a robe, and later seen at Target buying snacks. Analyses of her online history found that she searched for information about Amber Alerts (the system for local and federal agencies to broadcast notices of missing children), bus tickets out of Birmingham, and the 2008 movie Taken. When Russell was first interviewed by police, they found $107 in cash in her sock.
The case remains ongoing, which is why the Crime Stoppers of Metro Alabama said last week that it will not be returning some of the $63,000 in donations raised during Russell's absence. "This investigation is still ongoing, and accordingly, there is no basis to refund any contributions at this time. Furthermore, the Hoover Police Department has not requested for any donor contributions to be released or refunded," a statement from the organization on July 17. (Al.com reported that the organization was first returning donations on the morning of July 17, including $25,000 from the Birmingham Board of Realtors and an anonymous $20,000 donation, before reversing course that afternoon to wait until the investigation has concluded.)
"This is strictly for the benefit of getting law enforcement the best information as quickly as possible. And also, it allows the public to get involved because they want to get involved," Bob Copus, executive director of Crime Stoppers of Metro Alabama, told AL.com. "It really helped the family because it showed the family that people were not forgetting about them."
In the mean time, Russell was fired from her job at a spa in Birmingham. Woodhouse spa owner Stuart Rome said it was "really devastating" for the staff. "The following day, Saturday, it was the busiest day of the week, and they had to plug along and work and in the off times pass out flyers and other things," Rome told the Post.
"As the information came out that there were some questionable things, we've been a little pissed off, mainly because so many people took so much time out to search," Rome added.
While I have sympathy for the people having to cover for a literally missing coworker and also being stressed about not feeling like they're doing enough to find her, Rome's comments are the only thing that have made me laugh in this whole sad update. Thoughts and prayers up for the small business owner, the person most affected in this whole weird saga (and on the busiest day of the week!).